After hitting full sets of silver, me and the better half decided it was time to visit the mother of dragons. Or at least I thought I had a full set, only later did I realize my pants were still of the iron persuasion. Nevermind all that, Moder is not a particularly physical fight in Valheim so it doesn't matter much if you're in silver or not!
I'll preface this entry by stating my mild disappointment with the Moder fight which is a bit sad for a dragon fan. It felt anticlimactic, the worst being the preparations preceding it. We took maybe 2.5 hours from start to finish, with the final 10 minutes on the actual boss kill. The journey there was tedious and clearing the area wasn't fun. At all.
Prepwork Shlepwork
The boss prep in Valheim is always the same: once you have a marker, you max out the current level of gear and ready recommended weapons and potions. For Moder that means stronger arrows than usual, or if we were to believe internet guides, LOTS and LOTS of obsidian and poison arrows!! One person went as far as saying they required 800 arrows on the fight which, if true, is testimony to their failure as an archer. Bonemass was already a lot easier than many reports claimed and well, Moder is another three steps down from there.
Anyway, we figured the boss being airborne, arrows made sense. We also brought a couple of medium healing meads along in case dragon guano hit the fan. Then our never-ending sea voyage began…It must have been over an hour until we finally landed on shore and built our small base at the foot of the mountain. It's obviously random where the bosses are located, Moder was far off to the east for us with no previously discovered route.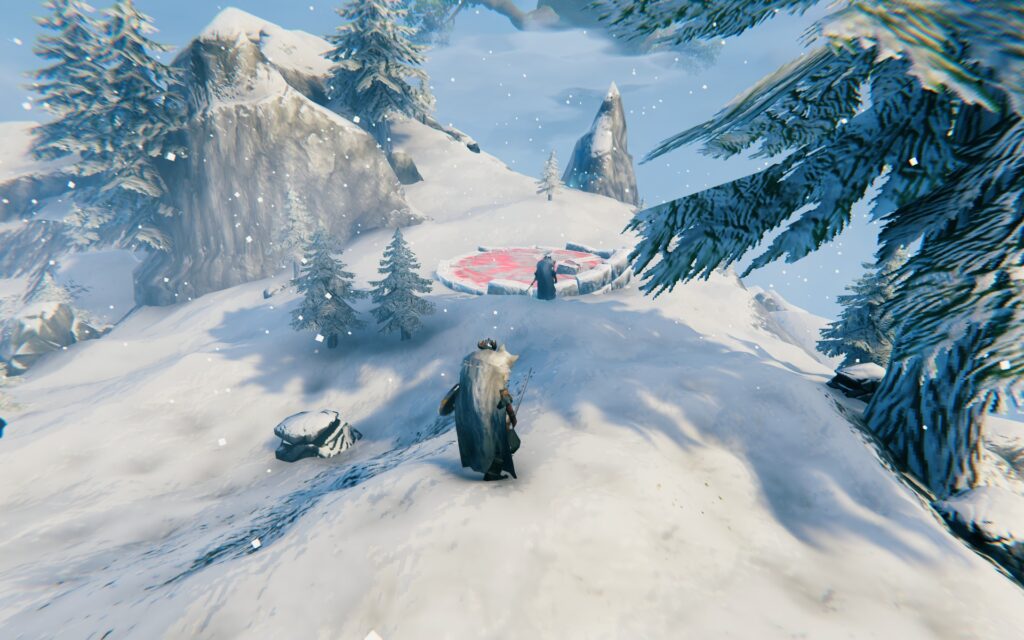 Base, beds and portal built, we slept over night and started our climb in the morning. We settled on carrying a dragon egg each, relying on finding a third one on our way up. This at least went smoothly with a dragon nest sitting right beside Moder's summoning circle, as if to say "in case you forgot one!". That's when we started to clear a large perimeter around the boss, as you usually do.
Naturally the area was a golem-infested suck fest. Two of them appeared right away, another one following soon after with blue drakes bombarding us (and them) from above. The flying pests fell quickly to obsidian arrows, the golems however I still deeply detest! Pick-axing them around uneven terrain is annoying as hell, so we took quite some time killing everything off to be on the safe side. That's when a fourth golem spawned, at which point the weather had turned so abominably there was no way we would summon Moder into that dark blizzard.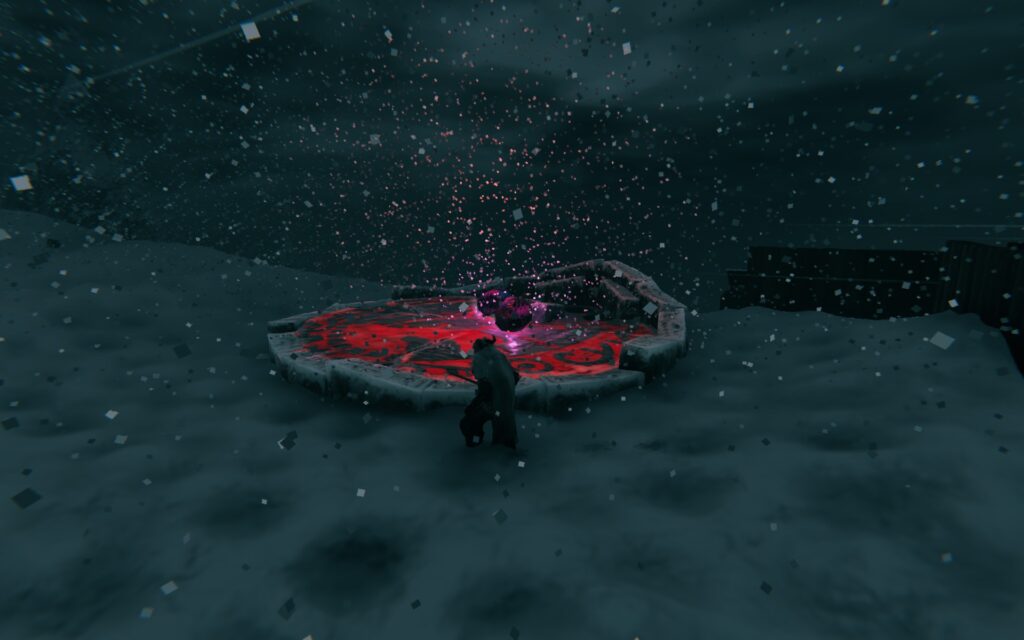 Waiting out the weather, night settled in. I started getting a bit cranky as I was already running out of food and our 24-minute rested buff (which we had gotten through the portal just before journeying up) was gone too. Might as well build another make-shift hut with a fireplace now that we were already stuck. Another 10 minutes or so later, which felt more like 30 minutes, we finally got to summon the boss.
Defeating Moder
The dragon appeared with a bang, looking much cuddlier than I expected. In fact I was reminded of the Dragonheart movie where Draco is too goofy to be taken seriously. Moder doesn't look very ferocious but she has a large health pool and bad breath. We dodged her aerial attacks easily, shooting arrows and awaiting the landing phase. The fight has no particular rush to it – Moder flies, Moder lands, and if you just stay at max range nothing will hit you at all.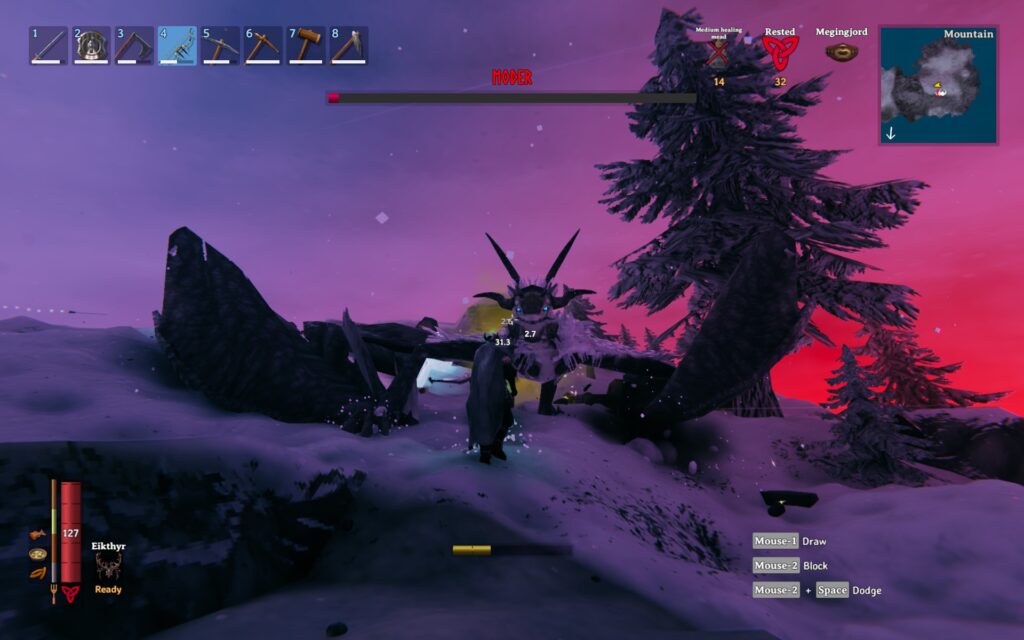 Naturally we did get too close a couple of times, kiting the dragon for a bit while also trying to get a couple of sword strikes in. Same as in the previous bossfight, Moder takes a lot more damage from the right melee weapons but it's also the riskier tactic. It took us maybe 10 minutes and 200 arrows altogether to kill her.
She drops a very nice trophy, the nicest thus far, so I'm thinking of going back sometime for another one. The dragon tear unlocks the next tier of crafting stations, tuned towards the Plains biome. Best of all, Moder's buff is the seafarer's boon, so my thalassophile partner was very happy to unlock that one.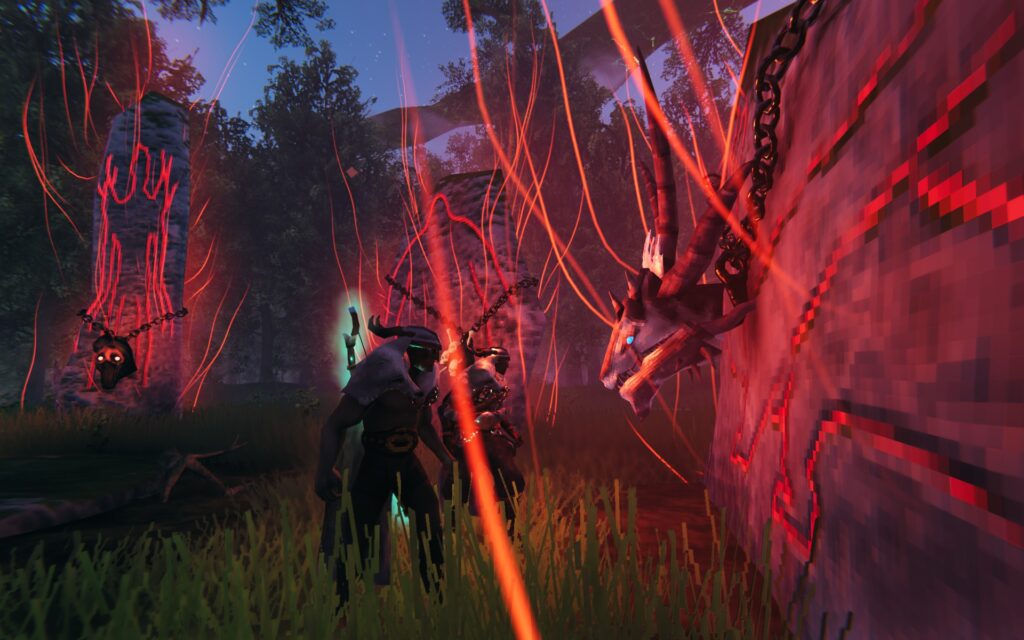 I have mixed feelings about Valheim's fourth boss. I think the unexpectedly long and tedious prologue soured me to the experience. That is the other side of the coin of randomness: sometimes everything clicks and feels smooth and epic, sometimes not so much. I'm okay with that as it's the price you pay for more unique gaming experiences.
I don't want to put Moder down too much, either – it's not a bad fight. It probably echoes my overall mountain impressions which leave room for improvement. I do want to give the dev team props for making each boss fight feel truly unique in Valheim at least. There's been no repetitions or stupid lazy fights the way you have them in other MMOs where it barely registers that you just killed a special opponent. And again, that dragon trophy is damn fine!
Now I look forward to reading how fellow Valheim adventurers Wilhelm and Bhagpuss were faring on this one, it must be any minute now!