Valheim has been pretty much all we've been playing in this household for the past two weeks and the home base is coming along nicely. We created a harbor base for all the ships and my personal forest cabin has seen the addition of a proper smithy the moment we discovered stone building. Progressing slowly through the swamp biome now, the game is just becoming better and deeper which I did not expect as much. I am still finding out new things about this world and I love how the developers have snuck in little secrets and surprises that keep coming at us. Just to name a few without giving away too much: Thor, Odin, that turtle!
The progress towards Bonemass has been slow which is how I like it. I've only just acquired some iron gear and weapons and the tradeoff towards weight is noticeable. That's when Haldor's belt really comes in handy and I'm also frequently wearing the trader's headlamp which has saved my ass many times at night. Speaking of trader items, fishing has been fun too once I figured out I really needed to go where the fish are visibly plentiful because you only catch what's physically there. That's rather cool, I don' think I've ever played an MMO where you actually see the fish you're catching?
Once Bonemass is down we'll make our way to the mountains. I really look forward to the snowy biome but I'm reluctant to invite even harder events to our base. Once a new boss is down you get visits of waves from the upper next biome it appears, so our defenses better be ready!
Multiplay lag issues
There have now been up to 5 players simultaneously playing and building on the dedicated server we use. The lag has increased considerably ever since the fourth person built a mini base and it's worst when everyone is online at once. There are times when you cannot even open doors and gates and the birds are immobilized figurines in the sky. The lag spikes even happen when we're far apart venturing on the world map somewhere, so we've looked into solutions which don't yet exist. The game isn't optimized yet, it's early access after all.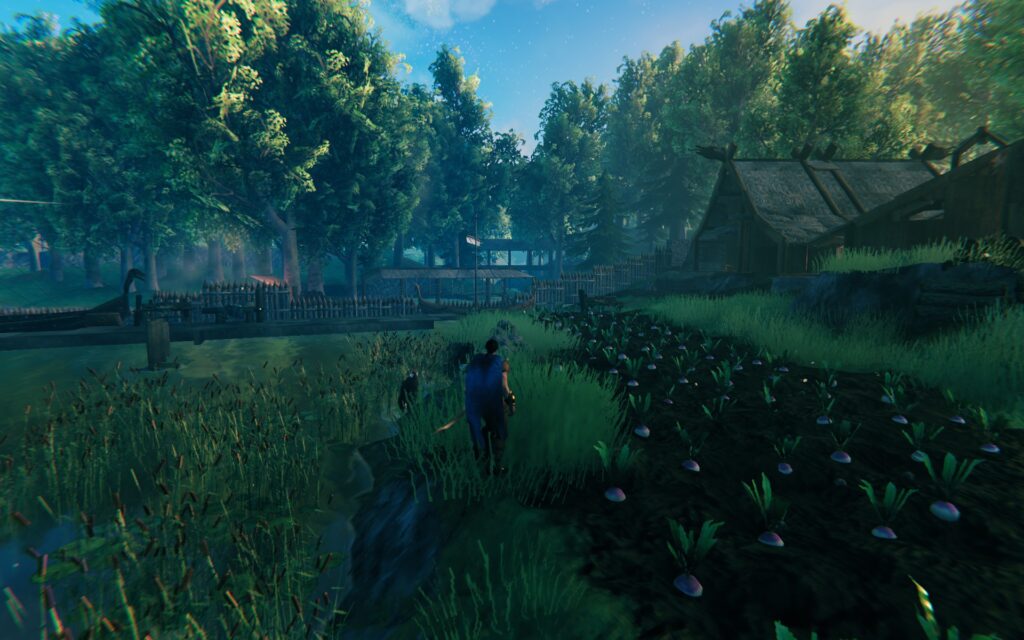 As a consequence, we're keeping things small from now on and going easy on the decoration and light sources especially. It's tempting to have torches and campfires everywhere for atmosphere but it seriously impinges on server performance. I've seen many reddit threads complaining about lag in multiplayer so we just have to wait it out for now, I guess.
Following the updates of the official Valheim twitter account, it also appears that we will have to re-start on a fresh server for future biome additions (while keeping your current world with less biomes). So there might be a time when we're rebuilding from scratch anyway which will be an opportunity to plan and spread out things a bit better. First time bases are always fun but much improvement is made the second and third time, or so it has been in similar games for me before. Having a lot of fun with Valheim and the building tools right now, I don't see this becoming an issue any time soon.