The blogosphere is abuzz with next gen subscription analyzis. MMOGC reminds us that subscriptions aren't in fact back and she's not alone in her suspicions. While some MMOs in the past were forced to revert to f2p, by now we have reason to believe such moves may be calculation. Tobold calls this new generation payment model "The bait & switch business model" and apparently it's what any smart (and ruthless) business person would do given the current market. Others have chimed in on twitter how there really is no disadvantage here profitwise – subs must win by a landslide. Meanwhile, Tesh is full of eyeroll over the TESO sub and declares personal boycott. While I have a soft spot where Tamriel is concerned, I agree with every last word in his article; I would sign up for that MMO utopia yesterday.
May I raise a question here though? How superior is this route really, compared to the buy-to-play (and cash shop) alternative many expected? Especially given the crazy competition 2014's AAAs will be facing, somehow I have my doubts this is such a clear winner. If anything, re-introducing a subscription-barrier in this particular scenario seems weird? LET'S THINK OUT LOUD HERE:
Let's assume for a moment both Wildstar and TESO are going live sometime during Q1 2014, with Everquest Next on their heels in Q2 – and let's completely ignore that Blizzard too may have a big expac up their sleeve around that same time. For the first time in years, the MMO mainstream is bewildered by too many AAA-choices and as we know, hardly anyone cares to pay for two subscriptions at a time. For the two sub-MMOs that essentially means a guaranteed loss of the usual potential playerbase. Alright, TESO have come up with a 1-month freebie but there are still box prices to pay too and it's already bad enough these games launch so closely together. I don't know anyone who appreciates that.
I doubt the mutual exclusivity of this situation is beneficial to either Carbine nor Zenimax. It's the nature of MMOs that communities will form during the first few months into a game and that after a given time, players don't care to join games that are already advanced in progress. They might dip a toe in but they're less likely to settle and therefore less likely to purchase any virtual goods. We're itchy to make decisions early when committing to new MMOs.
It's also not very realistic to assume either game may go free-to-play after the first 3 months. The Secret World was special in its swift conversion for various reasons. Assuming a switch is already planned for both Wildstar and TESO, there's no reason to believe either would switch after 3 months, given the much bigger hype around these titles and risk of bad PR (switches so soon after a launch are generally regarded as failures). Personally, I think a switch is way more likely to happen after 1 year – just like ArenaNet announced the first ever trial weekend for Guild Wars 2 only this August 2013.
12+ months are a lot of water under any virtual world's bridge. It's very likely players will test the other game as soon as it goes free – yet, that means they never payed subscriptions on the competition and they're less likely to have spent a dime yet on virtual goods anywhere. For those switching from one sub to the other halfway through, both titles basically share player base. However: how many players were lost completely to one title due to community, or to both due to box+subscription model fatigue? How would GW2's buy-to-play model truly compare to this assumed "early gold digging" scenario, considering a heavily contested launch?
An entirely hypothetical, simplified and sadly flawed calculation
Let's assume 4 million players are ready to jump into either TESO or WS early 2014 and that neither turns out to be a clear "winner" (as I am not interested in that particular outcome). Why 4 million you ask? Given what Rift has managed in the past (pre-switch), that seems a very generous assumption.
2 million subscriptions each during the first 3 months, before players start dwindling. After that, let's assume 50% of said players remain, while another 50% move on; 25% leaving for the other sub for another 3 months, 25% leaving for a f2p game for good. Between months 7-12, only 50% of overall players are retained while the game is still on a subscription. In this hypothetical scenario, box sales (60$) and subs (15$) for TESO/WS would yield the following for each: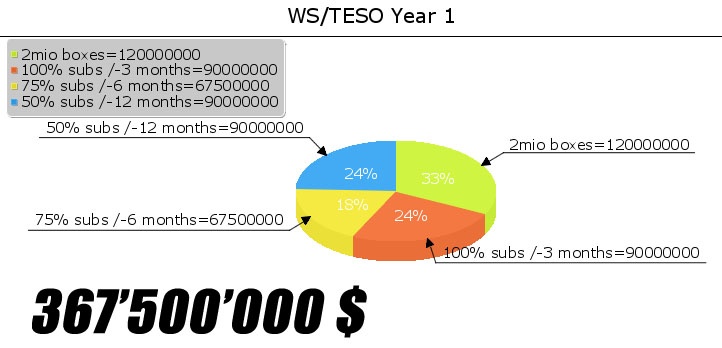 Variables not accounted for: double subbers and/or box buyers, shop items. The first group adds marginally towards outcome and shop items are less eagerly bought in MMOs with subs. In any case, I am ignoring them for simplicity's sake but you can add your own number if you like.
From here, it only gets more complicated when attempting to simulate a comparable B2P/shop scenario after GW2 fashion with a (better) shop like Rift's. Unfortunately developers hardly ever make numbers public when it comes to cash shop habits and revenue – just like we don't hear about active account fluctuations for subscription games. But since I am feeling lucky punk today, I'll give it a go anyway and assume two different and hopefully somewhat realistic B2P/shop scenarios.
This time, we will assume 5 million players are ready to jump into either or both TESO or WS early 2014. Why 5 million this time? Because I am generously assuming that B2P games attract a wider target audience than sub MMOs. One reason why GW2 has sold 3mio copies by now is the one-time cost. Some players always stay the hell away from sub games. There is also a second difference, as I will assume 50% of the entire potential player base are "cross-buyers". It's rather likely that over the course of a year, a big part of that community will buy both WS and TESO, given it's a 120$ in total and no more than that (in comparison one game with 12 months of subs would cost 240$). Means, 3.75mio boxes/account sold each. After that, we venture deep into hypothetical morass…but I'm already 11 paragraphs in and it's too late to stop now!
Cash shop scenario 1) is more even-spread; it assumes that over the course of one year, the total of players per game will spend the following on micro-transactions: 30% spend 50$, 40% spend 20$, 30% spend nothing.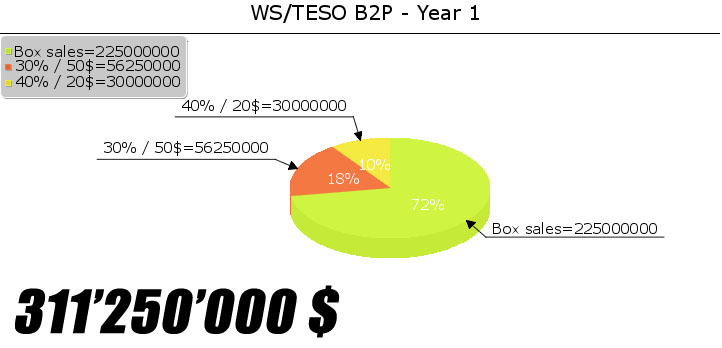 Cash shop scenario 2) is more radical; it assumes that over the course of one year, the total of players per game will spend the following on micro-transactions: 10% spend 100$, 30% spend 20$, 60% spend nothing.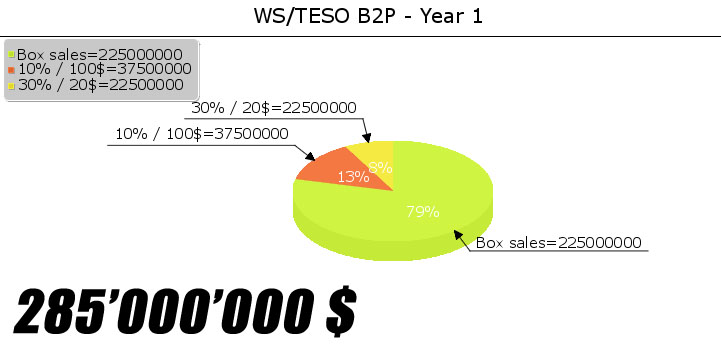 As you can see, even with a lot of goodwill and no small amount of simplification, the subscription-model seems superior – by some. We still haven't accounted for several more factors though where B2P is concerned. Variables not accounted for: whales, cross-shop purchases and box sales after year one. Especially that last part is worth taking note; B2P MMOs have the tendency to keep being sold longer than sub MMOs. Of course that argument is redundant if the sub games also turn B2P after one year, duh.
So that was a lot of effort for nothing?!
What was the point of all this? Well, it looks like especially in the short term, subs are more profitable. Still, the difference between the two models isn't as drastic, considering there is a huge margin of error in all of my calculations. And this is in fact good news! Why is it good news? Because from here, one could think of ways to tip the scenario either way.
So, help me refine this: was I too generous on cash shop sales or not nearly generous enough? Would a B2P maybe attract twice as many box sales than usual? Under which circumstances could we still see the B2P model win the upper hand? Where did I go wrong the most (real data would be awesome)? I guess that's where a proper business analyst would come handy, for once.