It's almost old news now, SOE and their single-subscription plans for all players. You can head over to Wilhelm's for a roundup of what that means and why they're doing it and check the other, related blogger links there. I am of course with Bhagpuss when it comes to feeling rather outraged about the whole Pro7Sat-deal for European players. If you've sorta grown up with those TV channels, it fills you with all kinds of dread thinking of them as MMO publishers, all other issues of this arrangement aside. I've been bewildered about this for a while now. First time I heard about it, I thought they were pulling my leg.
Syp explained today how the single-sub is really a "big win-win situation for both the studio and its customers" and a move towards rewarding brand loyalty. I can see how cross-financing more and less struggling products makes sense and why friends of SOE games might feel this way. After all, what's cooler than getting more games for a single subscription, right?
For now. I just can't help but puzzle over all the included implications for this genre that's made for longterm, dedicated play. A genre that's not the most suitable for switching games constantly – a thing that gets incentivized by the way sub bonuses will affect all of SOE's involved products at the same time.
Don't get me wrong; this is essentially not much different from free-to-play MMO gaming. You could say that you're paying a sub for one game and get the rest for free. A single-sub MMO buffet doesn't "destroy" player commitment any more than free-to-play does, any more than any payment model can. I have never believed in subs being great or in fact genuine tools of facilitating player commitment. I don't believe they decide over how, when and why MMO players leave a title. Great games keep players. Great games create great communities that keep players. It's all connected in one direction for me.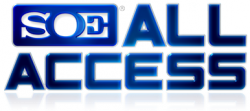 Another thing this frontrunner of all-access MMO deals is doing, is inspiring wild industry speculations on what we can expect from here. It's a no-brainer that other companies will follow suit; certainly other giants such as Blizzard or NCSoft have their own, big enough game palettes to offer. There will be a point in time where business analysts with a very large clip-board will have proven beyond doubt that, in these times of plentiful micro transactions, the pros of single-sub buffets outweigh the cons (such as losing multi-subbers) by far. Once you have access to more games and are actively encouraged to play them in combination, that opens up all types of new avenues of getting hooked and spending money with that one sub payed on top of everything else. As Tesh rightly pointed out on Twitter, it's opening the floodgates to MMO meta-gaming and cross-overs, too – and we haven't even properly begun to explore those. Frankly, I am scared to explore them. I do not appreciate those Steam trading cards at all.
But one can almost feel it now: a ripple in the fabric of the MMO market as we knew it. I can't shake the gloomy feeling that SOE has just rung the bell for an entirely new era of MMO development – or opened a particularly disgusting cans of worms, depending on your viewpoint. One sub to rule them all and in the darkness bind them?
At this time and considering existing games, there may be clear upsides to this model. However, what it may cause in the long run and what types of new games it might inspire to be developed….especially for the traditionalists among us…..
I am afraid to even consider.