Over the past two weeks bloggers all across the MMO and gaming blogosphere have signed up for the merry December blogging countdown and I am happy to confirm a total of 46 people are participating! I have spent the better part of this weekend finalizing a calendar-like page, randomizing dates and working out the last bits and pieces – but more on that later! While the original post already contains most of the infos and ideas behind this event, a very brief summary of what you need to know so you can start writing and planning ahead:
The topic of your post should revolve around "gaming and community"; share something positive that has come from gaming/blogging for you as an individual and that involves others in some way. For ideas, see the original post.
To identify participating entries, the title of your post should read: "Bloggy XMAS <day number>:………….." the rest of the title being all yours!
Publishing time for entries is at

9am PST

which translates to 12pm EST and 5pm (London) to 6pm (Paris) for central European times respectively, to meet the timezones of a majority of bloggers and readers. I am aware that this is not a perfect solution for everybody, but thanks for trying to schedule your publications accordingly if possible. It helps us to get an idea of what time of the day new posts will be up each day.
With the administrative bits out of the way, here comes the list of individual post dates for every blogger. Due to many signups, December 1st – 21st will be featuring two entries per day which is absolutely brilliant. Assignments have happened completely at random, courtesy of RANDOM.org (so please direct all complaints there!). —> Individual posting dates by author's name A-Z: Follow this link!
Presenting the Bloggy XMAS Calendar:
Finally, it's time to reveal the countdown/calendar page! I've come to understand that digital advent calendars are in fact tricky business: having moving bits, timer lockouts and whatnot isn't simple, especially if you're looking for a calendar that caters to different timezones. The Bloggy XMAS calendar page is therefore kept simple, as an overview for you to keep track of all posts published on the topic of gaming community in December. It is a visual guide more than anything and like every physical advent calendar too, it's up to your own self-discipline whether you'll spoil all the surprises in advance and binge on the candy inside, or whether you'll strictly open 1 window per day!
You can find the Bloggy XMAS  calendar at bloggyxmas.blogspot.com. Henceforward, you can use the standalone page to keep track of community posts for the day (also check twitter #bloggyxmas for daily updates), as well as a daily MMO fun fact and MMO tune for the day (of course!). For those who would like to make a sticky and promote the event via their own blogs, feel free to use the banner below!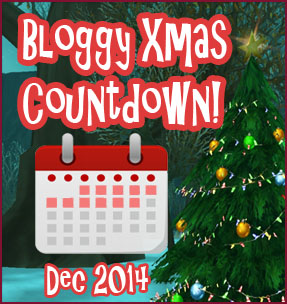 The event lasts until December 25th. The blog links provided for each day are currently directing to your main domain and will be adjusted as soon as posts have been published. If you would still like to participate in this event, let me know in the comments or via twitter. A final round-up will be published around Dec 31st.
Thanks everyone for joining for this merry event and bringing some community spirit to the gaming blogosphere this December 2014! Looking forward to many great posts!