Fishing is Valheim is rather fun. I am not usually a piscator in MMOs but basking in the morning sun at the shore of our home base is one of the most pleasant, relaxing things to do in the game. The large fishing pole looks great and feels like a proper mechanical tool rather than the cosmetic item it often is in other games. Fishing is also easy and cooked fish makes for solid health and stamina food early in the game. I hear you can make fish wraps later on too but our progress is nowhere near farming barley just yet.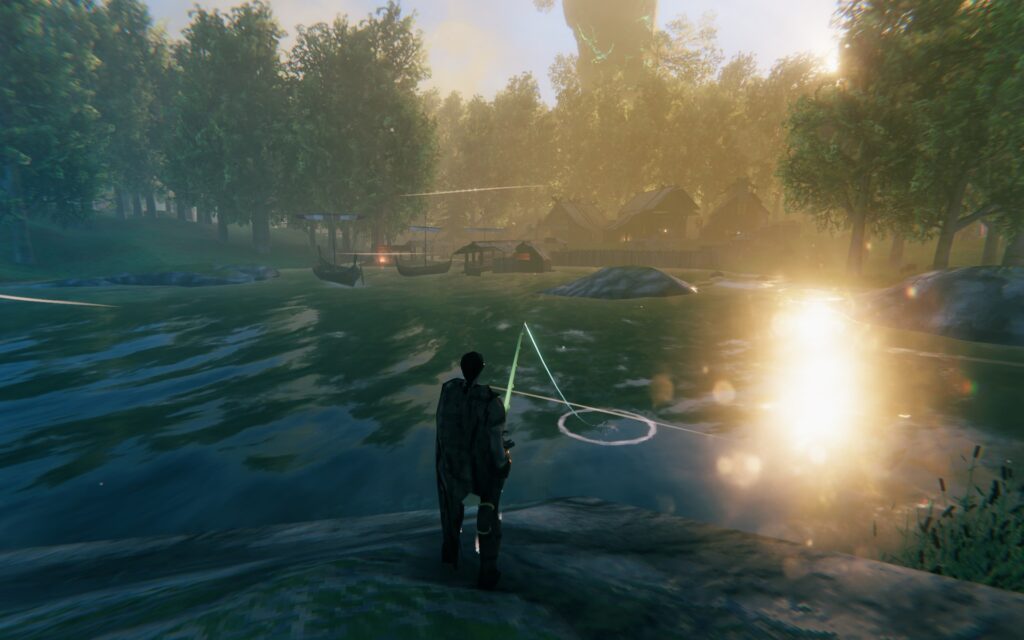 How to catch a lot of fish
Once I learned that fishing was a) all about stamina and b) about catching physically visible fish in Valheim, my hauls have improved in efficiency. I usually pick a spot at the shore that is busy with different fish and cast my pole in the same spot until it's more or less empty, varying slightly with throwing angles and line distance. Reeling them in is simple as long as you ensure your stamina pool is reasonably high (I fish with a pool of 100-120hp to be on the safe side). I don't reel in my fish in one go but long-press the right mouse-button several times in a steady rhythm which feels better to me personally.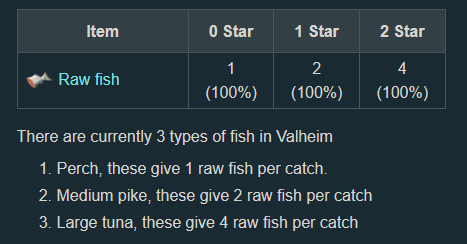 After getting the basics down, I started upping my fishing game a little. I discovered there's no need to fully reel in a fish as you can already target and store it with 'E' when it's still 3-4 meters away. This makes the process faster and requires less stamina which can be helpful when you find yourself running short. I've never lost a fish, not sure if it's even a thing or not as long as your stamina holds.
Then there's of course the 2-star fish which yield 4x meat when you catch them. The large silver tuna are easily spotted in the water and swim much faster than other fish. They also seem to enjoy company, at least I often seem to catch 3-4 in a row which can lead to a stack per 5 minutes easily.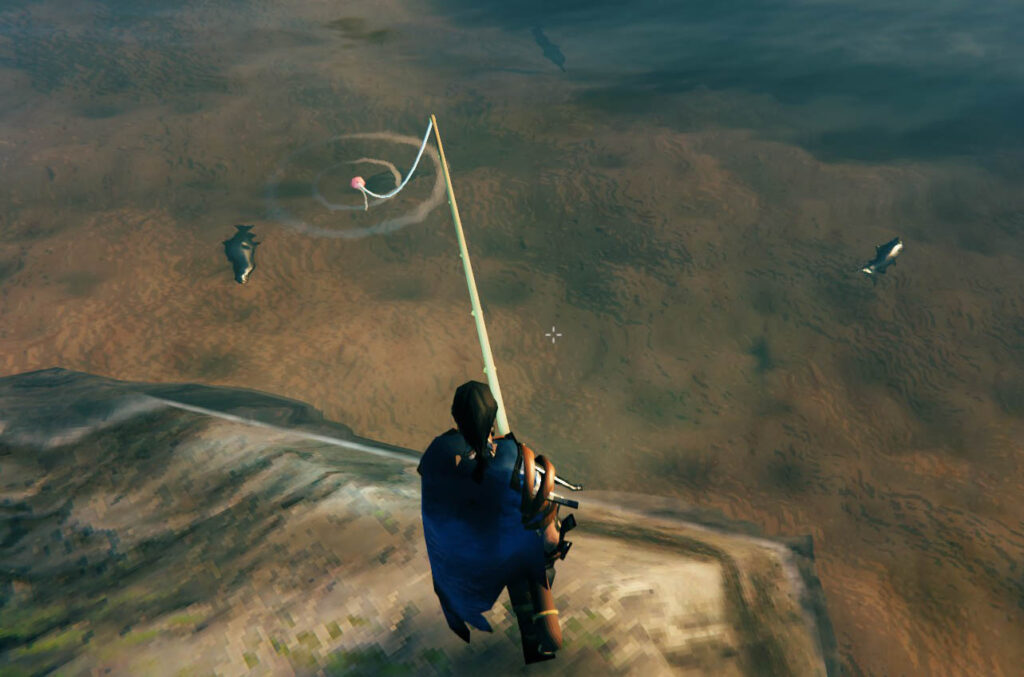 Another thing that happens quite often is the double catch: this seems weird to me but occurs frequently when I catch fish at the shore. The moment I reel in my catch, a second fish starts pursuing it. It will swim halfway up the slope at my feet before I store the hooked fish, so it's possible to make a double catch by pressing 'E' twice in a row (the second time targeting the fish at my feet). Am not sure if these suicidal fish are meant to behave this way but as long as you're standing close to the water line, you can benefit from crazy fish sacrifice.
Fishing improvements
Right now fishing is a cheap source of food in Valheim once you acquire the fishing rod at the trader and have cleared plenty of crypts for coin. Coin soon becomes abundant, so 10 gold for a stack of 50x bait is fair. What I'd like to see is more applications for fish as in more recipes. Another cool addition would be ocean fishing, with further type of fish added to the game. Checking the roadmap ahead, especially the 'Hearth and Homes' as well as 'Ships and Sea' announcements, that seems likely to be in the books.