The other day, I had a bit of an argument with my significant other concerning folk who like to transform themselves with help of expressive or more unusual attire, often in their private time. The topic wasn't so much cosplay but people generally wearing clothes that come with a certain message of affiliation or membership, to name more flamboyant members of the goth/black metal scene as one example. This type of expression isn't limited to the rock'n rollers among us though; it can be found anywhere, even for more conservative interests such as golfing or hiking. Dressing up for the occasion plays an important role in many social activities and for some people it's an integral part of who they really are.
At a first glance, this might strike you as a very superficial approach to identity. Why do you need to wear a certain style to feel part of a social group or (in some cases) to communicate associated belief systems? Isn't our heart the place of true identity? Strictly speaking that is true – it doesn't make you any more or less of a "punk" whether you're wearing torn jeans and a mohawk or not. Clothes and looks are deceptive and they should never be a requirement for someone to belong to whatever culture or creed they relate to. I can be committed to a set of beliefs without looking a certain way.
At the same time, clothes can be a powerful catalyst of self-expression, even self-discovery and confidence building. There's a reason why many actors, especially method actors require authentic clothing that goes with the character they're not just playing but becoming. Inner and outer transformation go together. There's also a more common phenomenon of someone cutting their hair after ending a longterm relationship or getting tattooed after a great cesura in their lives. Our body is a reflection of the things that are happening to us. Some people, not all people, simply choose to include that part of themselves more actively.
Loving variety, I hold a torch for people who go for the so-called deviant styles in our society, be it a part-time thing or fulltime commitment. It takes guts to go against social conformity and nobody deserves to be written off on account of green hair or piercings. That's one of the criteria I try to push as a recruiter too, by recommending clients keep an open mind to more colorful candidates rather than blindly trusting another picture in a grey suit and tie. At the same time, I'm trying not to fall prey to inverted snobbery; I admit I have a soft spot for people who don't fit the corporate cookie cutter.
The perfect MMO gear
I'm neither the most imaginative nor boring dresser in real life but when it comes to my MMO avatars, I've always cared a great deal about customization options and cosmetics. I don't know if this interest is more prevalent among players that treat their avatars like an alter ego but I am guessing most of us have preferences regarding their MMO character'(s) looks and have things that can throw them in/out of immersion. Unfortunately, we are all too familiar with the sub-par customization options of some games and the often lackluster or ill-conceived gear choices. And so I wonder: how have my past avatars' looks, more specifically gear approach of the MMOs I've played the most, affected my playing longevity? Where and when did I truly feel at home gearwise?
World of Warcraft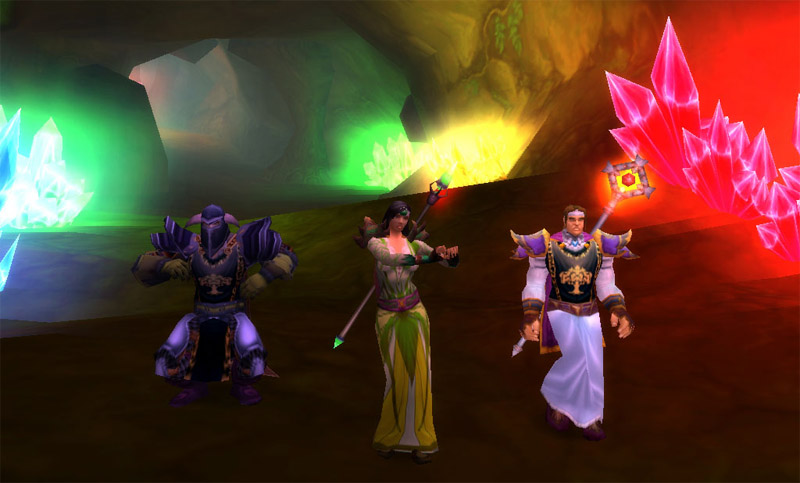 I played WoW for over 6 years and would call my experiences with its gear a very mixed bag of hits and misses. WoW made me feel epic spellcaster and disco clown in equal amounts and even the better sets I collected over that time were more hyper-stylized than I would have wanted, glorified leotards with near-zero extra customization options. Transmogrification was added just after I left and to this day Blizzard haven't added a dye system. I guess this means gear wasn't an integral part of my character immersion in WoW despite a few definite favorites.
Guild Wars 2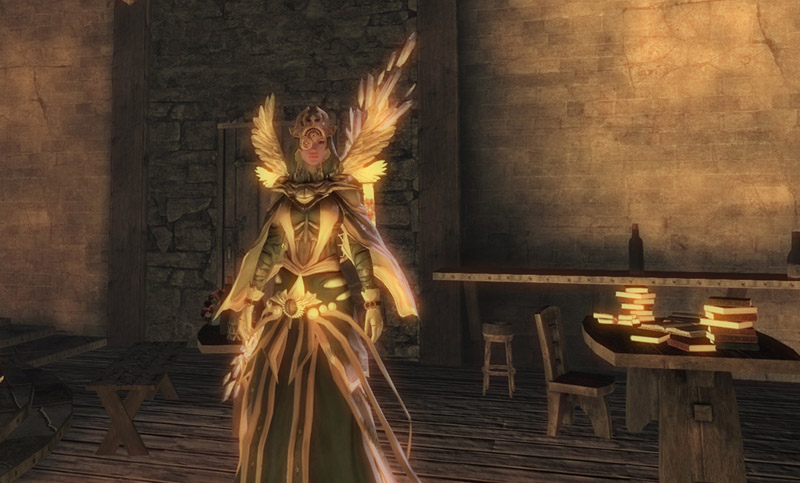 To this day I've never played an MMO with more beautiful, aesthetically pleasing gear than GW2's, certainly none with a better dye system. While ArenaNet could've offered more variety in their initial character selection, there's not much left today that you cannot do with cosmetic and town gear. And yet, despite loving the different looks of my Elementalist, I cannot exactly claim to have been immersed in my alter ego. This is tricky to explain: to me, GW2's gear is almost too beautiful, like a painting or wonderful piece of art to admire from afar without wishing to take it home with you. I love looking at my character but she isn't really me, not the way I think of myself as an adventurer. What can I say, it's complicated!
LOTRO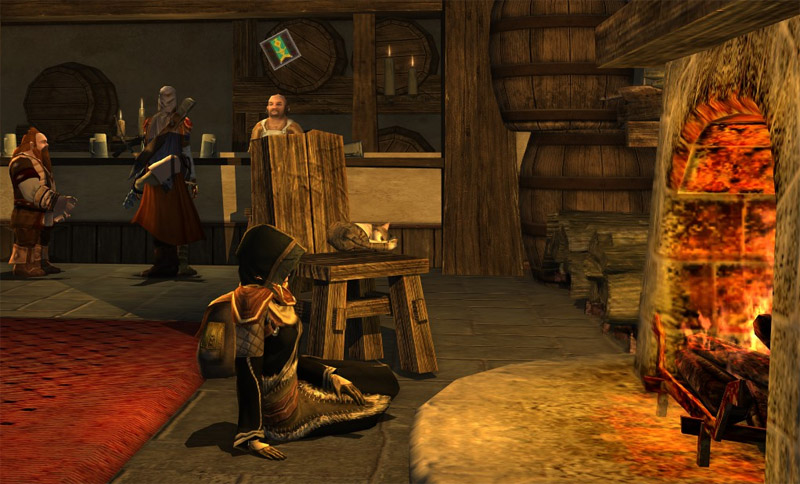 I've never written a post on LOTRO's gear. Instead, I've praised it frequently as my personal winner of immersion in so many ways – from scale to atmosphere, scenery and sound effects. There's an authentic quality to online Middle-Earth that's never been reached in other games. It's therefore probably no surprise that my favorite MMO gear too, is in fact my Lore-Master's humble Ferrier's Robe with its leather straps, stitched pieces of fur and merrily dangling satchels (I imagine they would dangle). Combined with a simple hood and backpack, I never felt better dressed or more ready for adventure than in LOTRO. There is countless lovingly detailed gear in the game like that, with the kind of commitment to practicality that may only be found in ESO right now. I love my character's looks in LOTRO – more importantly, this could be me tomorrow!
Sometimes less is more, especially where immersion is concerned. However awesome gear or not, it's probably fair to say that it's not our character's looks or customization options that decide over the longevity of our commitment. That doesn't mean they do not add a lot of enjoyment to the games we're playing though or that there aren't certain breaking points. Playing Wildstar right now, I am back to hyper-stylized but also practical gear. Mostly, I am happy that the game doesn't make me run around half-naked.
What was your perfect MMO gear of all time? Do you feel your character's looks have any bearing on how much you can enjoy a title longterm? I wager more customization is always popular in MMOs, no matter how much we love cosmetics. There are limitations to what I can wear or get away with in real life, so it's all the more important my online selves enjoy that unlimited freedom of self-expession.