One of the things that strikes you when going straight from GW2 to a bit of Tera, because Tera has shinies, is that in all due fairness the two games mostly keep an even scale where skimpiness is concerned. The eternal cringe that is the Elin aside, Tera's nekidness is mostly visible in its High Elves and Castanics (I love my gender neutral Popori!). Many NPCs wear the type of badass armor that makes you question why oh why they couldn't just stick to that overall aesthetic?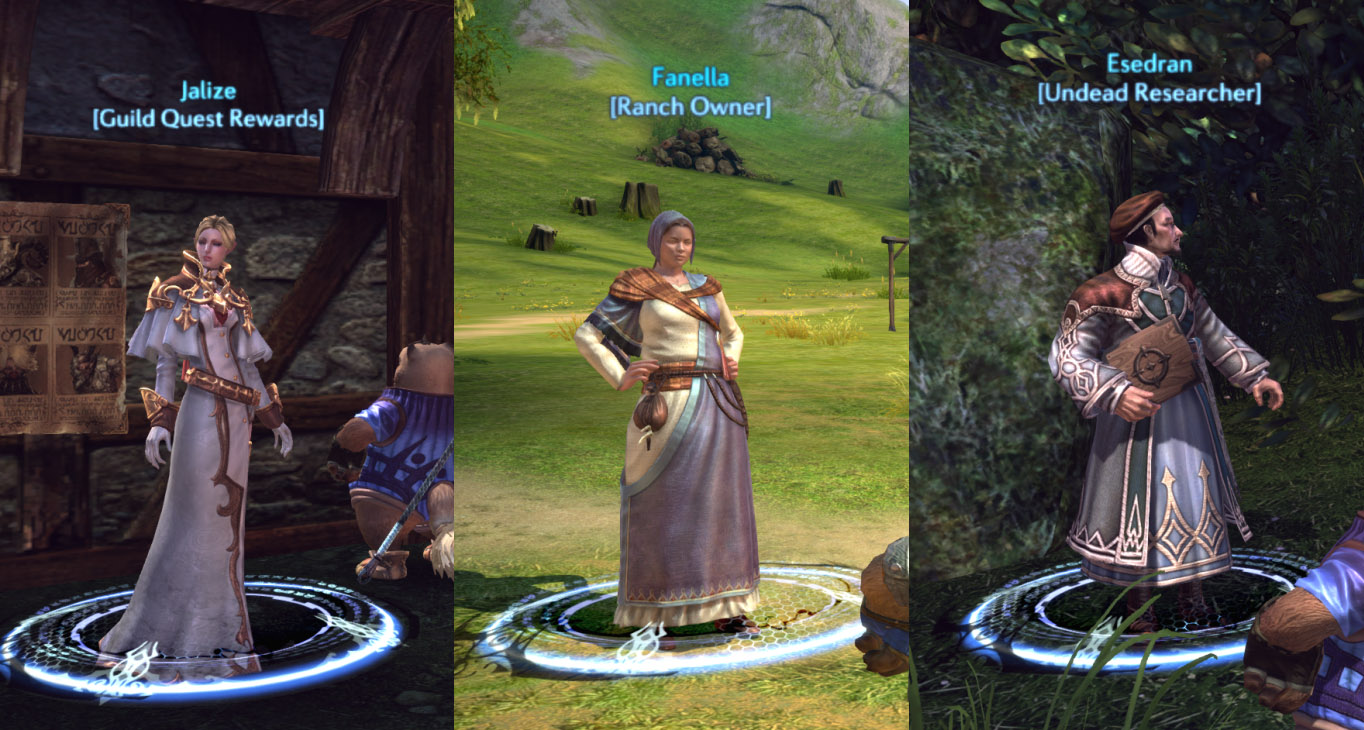 Depending on race and armor choices, you can mostly avoid the sexy armor if you so choose, which similarly to GW2 gets frustrating at times but is still doable. A great range of class and cultural armor in GW2 adds bare midriffs, split skirts and high heels for its female heroes, and yet the audience at large seems to be okay with that arrangement. Depending on time and chance, you'll have a very hard time spotting serious looking apparel (and not another iteration of the masquerade set) standing around the mystical forge in Lion's Arch. Yet, some games clearly get more beef, especially pre-hyped beef, for their armor design than others. I do wonder a little why that is.
This brings me to a long-made promise concerning my Elementalist in GW2 whom I love to outfit. I managed to create three overall sets/looks for max level that I'm incredibly happy with, so without further ado, let me share my favorite srs bzns styles for GW2 light armor classes (all items come without class/race requirements):
1) The Berserker
The first seriously awesome exotic set I ever got in GW2, Berserker Acolyte items become available from lvl62 upwards. This set is best known for its heavy skirt and blindfold mask, creating the original Illidan look. I love what different color palettes can do here and I prefer a random drop called Doric Helm of the Valkyrie (pics 2 and 3) over the default headpiece. This style is cheap and easy to come by in the market place!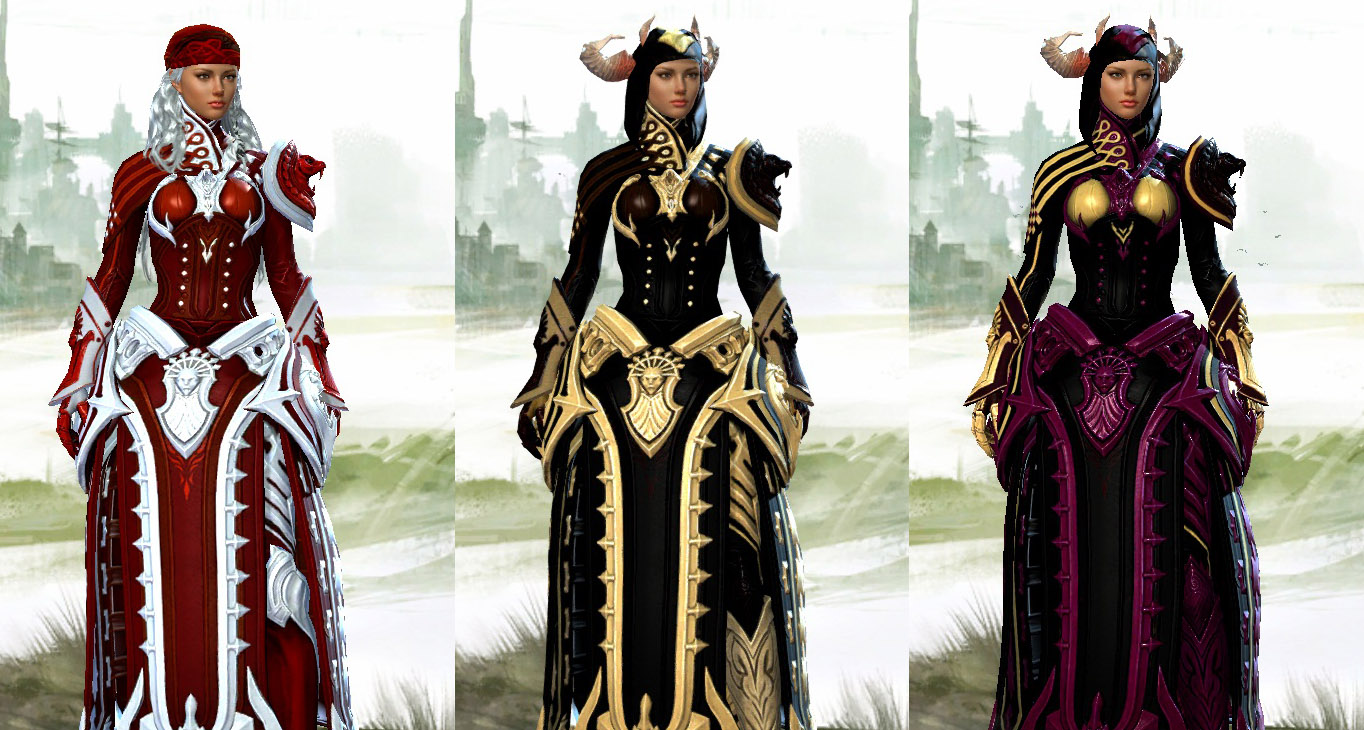 2) The "Queen's Guard"
Named for its royal baroque look, I named this mix'n match between the Berserker set and several more items the Queen's Guard. The extra pieces to look for here are Mending Epaulets (of something), (Valykrie's )Exalted Pants and very common Apprentice Shoes. The more delicate Masquerade gloves will also fit in beautifully (pic 3).
3) Conqueror of Arah
By far my proudest accomplishment, nothing radiates rite of passage the way the Orrian set from Arah does. I sweat blood and tears acquiring this look! All pieces are awesome and unique, not to mention versatile – letting you go from demon spawn (especially with the default head piece) to my favorite angel healer depending on coloration. Since I love the steampunk vibe of the Inquest Cowl from Crucible of Eternity, I substituted that one with the rather ugly Orrian mask.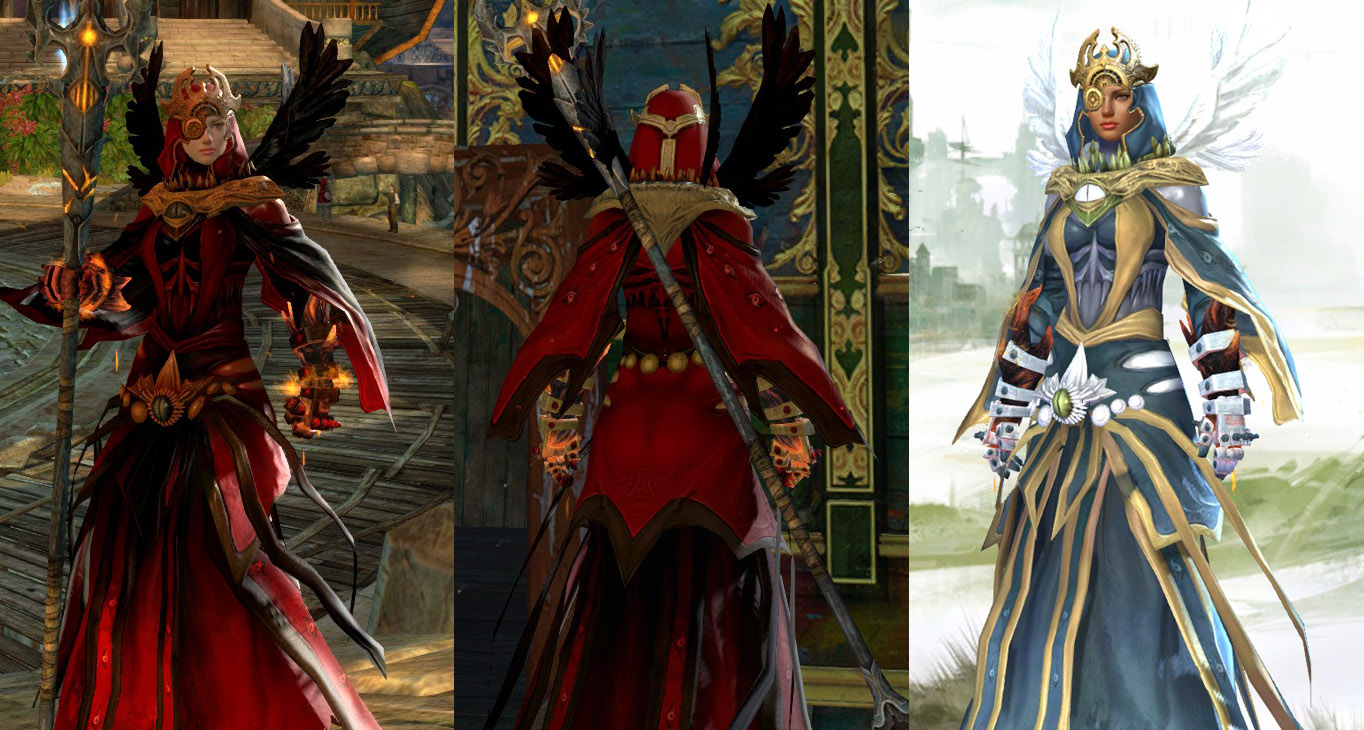 I gotta admit, the very last look in blue/white is a big favorite although I clearly should've remembered to switch my gloves back before taking that screenshot.
These pictures should prove beyond a doubt that GW2 features some wonderful armor that treats the ladies right – so dear ArenaNet, you have my approval to create more of these and less of those, thank you!
For more light armor inspiration, check my old overview of non-skimpy low level styles and also this formidable skins overview on the GW2 Guru forums. Choices, choices!