While the Wildstar closed beta is still running hot and more and more press footage is being released on the net (the lucky ones), players have been debating and in places worrying about the active combat and telegraph system. How comfortable does Wildstar's combat feel compared to other active combat MMOs? How are the telegraphs gonna pan out in 40man raids?
Already in July 2013, Carbine released a devspeak introducing telegraphs, making it very clear that the most defining aspect of Wildstar combat was gonna be this: aiming. After analyzing what similar titles had done in the past, Carbine settled for a "freeform targeting" approach which, while conserving the basic tab targeting function, allows players to adjust (and miss with) their area of effect at any given time, and vice versa for enemies. The result is a fairly colorful and at times hectic bling-fest, where the player is not only trying to aim his attacks most effectively (not all parts of a telegraph deal the same damage) but reacting to enemy attacks pro-actively and dodge-rolling or strafing to get out of the really bad stuff. This makes for a rather complex and highly skill-based combat, especially where tougher challenges and PvP are concerned.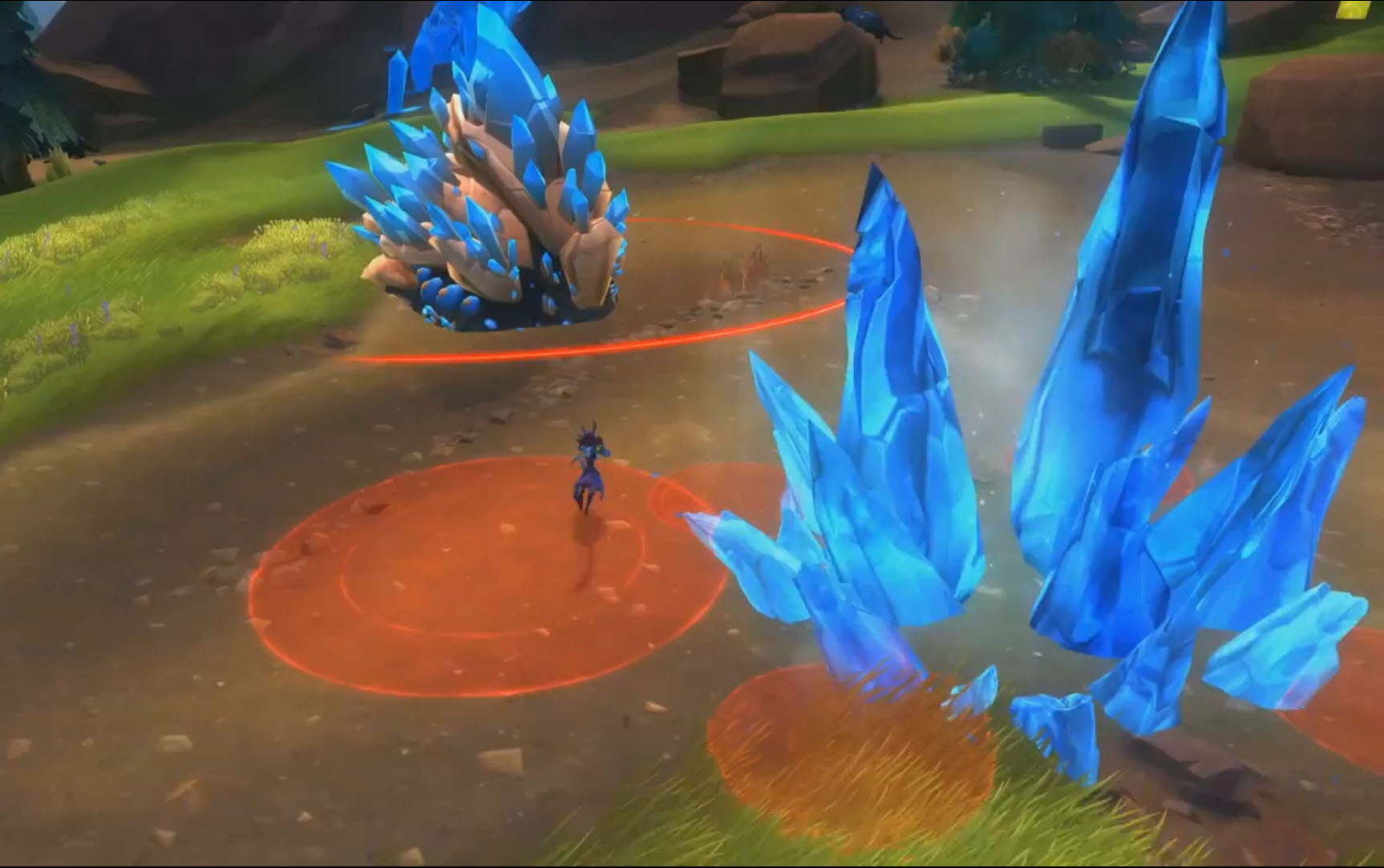 As illustrated in the devspeak, telegraphs come in various shapes, with different cast methods, ranges and synergies. They can be stationary or mobile, instant or require ramp-up times. Naturally, colors signify whether a telegraph is detrimental (red), beneficial (green) or a variety of other things players will need to internalize. This has justifiably raised questions of overlapping (telegraphs are translucent) in group play or prioritization. No doubt, telegraphs will be adjusted and tweaked for a while to come yet, before Carbine have found the perfect balance – and then there are always addons. What's probably safe to say is that this active combat looks far from boring or the automated face-roll we know from older games.
How Wildstar combat compares to other MMOs
Not surprisingly, Wildstar's combat is frequently compared to that of recent predecessors TERA and GW2. That is interesting because, having personally played both MMOs, their active combat falls on different sides of the same coin for me.
GW2 is hands down my favorite MMO combat to date. It is characterized by a very high mobility and character-centricity, in the sense that combat focus is less about the aiming (there is auto-attack and classic auto-aim via tab) and more prioritizing dodging and survival on the player's end. When the stakes are high in GW2, players will always move out of the bad first while not having to worry about aiming; auto-attack can take care of such transitions for a while. Indeed, you could take your eyes off the enemy completely if need be.
TERA on the other hand, flips the coin: while there are some mobile abilities, TERA is back to classic stationary combat that won't generally allow you to cast while running. While it combines good old feet-of-stone with dodge-rolls, it prioritizes a mob-centric focus. Special attacks and AoE aside, TERA's active combat is all about freely aimed projectiles (via cross-hair feature) which makes for a fun change from other MMOs. Coming straight from GW2 however, I did miss my mobility. I even wondered how awesome it might be to combine the two modes.
So, where does that put Wildstar? From all I've seen so far studying various sources and footage, Wildstar combat falls squarely in the middle. It requires the same constant vigilance tougher GW2 encounters ask for in terms of self-management and survival, while improving on TERA's aimed combat with telegraphs. While there are some more stationary classes such as the Esper, this new MMO is all about mobility and aiming in equal amounts!
That will take some getting used to, especially for the more laidback and lazy casters among us. I wouldn't go as far as declaring the peaceful solo-questing routine of one-handed pewpew dead but Wildstar combat is most definitely gonna ask for more attention than many popular AAA-titles have in the past. Carbine intend to keep their combat interesting for a long time and given how combat is such a central feature for most MMOs, I don't blame them for putting that much thought into it.
As Telwyn recently pointed out too, it's all about finding a happy balance. We will see how the player base adjusts once the dust has settled over the Nexus and everyone has had time to learn some new tricks. I for one welcome that MMO combat is still evolving.