Square-Enix have officially halted digital sales for FFXIV:ARR due to an "overwhelming demand" and unlike for Guild Wars 2 one year ago, nobody can say they're surprised. The blogosphere is abuzz with FFXIV impressions and even those who wouldn't touch Final Fantasy with a stick in the past, are willing to have a look at A Realm Reborn which is quite remarkable to say the least. I always hoped that this title would be given a second chance; to see it appeal to the western market way more than its predecessor, which launched in a time pre-WoW, is pretty amazing. The fact that I have to be careful about how I criticize the game in my usual circles these days, is funny.
FFXI was my very serious introduction to the genre back in 2002. My love for this franchise is no secret and is frequently highlighted during Battle Bards podcast episodes. I will defend Chocobos to death if I have to and tell the world why Square deserve all current fandom for being consistent, faithful and shamelessly magical on so many levels. There are not many franchises out there that have not only seen as many years, but bested cross-platform and cross-genre hurdles the way the Final Fantasy series have. FFXI is one of the most successful subscription MMOs to date.
So really, nobody wanted ARR to be awesome and great more than me. I signed up for the beta the moment I was able to. I spent time on the character customization, questing and exploring the starting areas, playing different classes. Yet all things considered, I'm sad to say that FFXIV isn't on my list of current MMOs. I was even tempted to write that final "why I'm not playing…"-post the way I usually do, but then decided against it. Despite the fact that I was majorly disappointed by the beta and that ARR has had a rather horrendous launch, I'm willing to give it another go in a couple of weeks or months, when SE have had time to address the biggest issues. Why is that? Because of FFXI memories and my hopes to see some of that return one day.
My very personal ARR (beta) impressions
Before jumping into retrospective, let me explain briefly why my ARR beta impressions can only be summarized as "an exercise in datedness". Maybe I'm applying higher standards to this relaunch – in any case I have zero tolerance for its particular shortcomings. From the very beginning, SE's communication in terms of beta dates, feedbacking / NDA and actual DOWNLOAD LINK were beyond abysmal. Polish in this regard, be it customer info or smooth account and payment management, were never this company's forte. FFXI veterans shiver in fear thinking back on Play Online account management. Still….because it is 11 years later and because this is a relaunch, I expected better. This is poor guys. Poor!
After discovering the download link for ARR in some forum thread (…), successfully installing and finishing a somewhat strangely organized character customization where all the female voices sounded like pornstars before climax, my Lalafell Conjurer was thrown into Gridania. Instantly I was critted for 500k of wearisome tiny speech-bubble exposition. I get it…this is the uhhh "tutorial phase" for all the complete MMO newcomers out there (so many of them!). So, after clicking away what seemed like an eternity in Lalafell years, I did my best to navigate the horribly designed starting area with help of the equally horrible town map. Oh and teleport thingies….which didn't seem to have names on the map – yet the beautifully long dropdown menu for picking destinations required me to know. Trial & error, said I!
What's with all the double confirmations, by the way? Do I really want to – really really? Is this game developed by Microsoft Windows? …
All of this wouldn't have been so horrible if ARR didn't send you all around town for the most lazily designed and unimaginative fetch&delivery quests since kill ten rats. First I wasn't sure if they were kidding when asking me to pick up 6 sparkling vegetables lying around right before my nose. Then it turned out this quest wasn't the exception. That's when cold desperation took hold of me.
There was also a "do this emote"-quest for variety. It was my absolute highlight.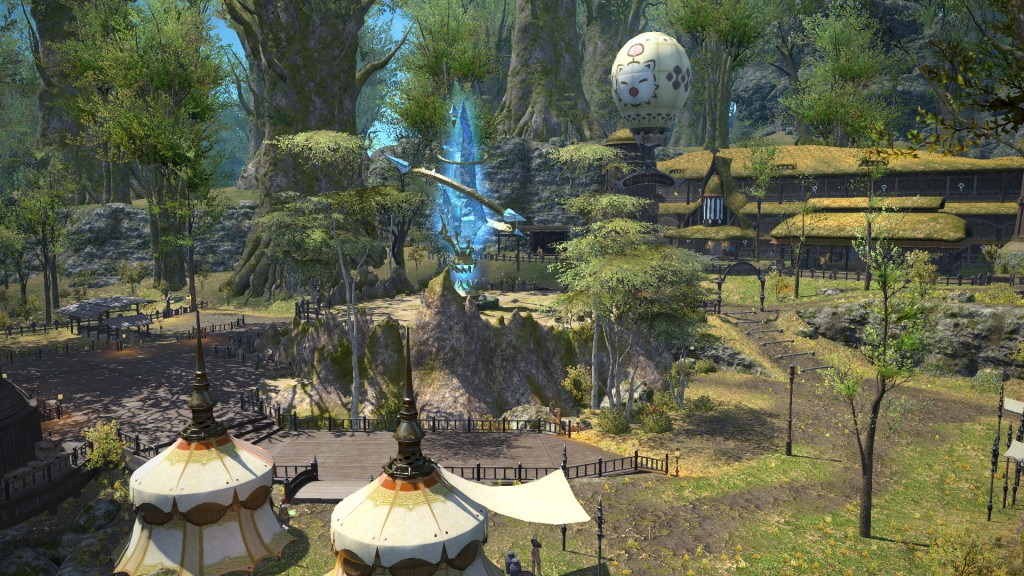 Outside town the world was a beautiful as ever. Yeah, they know how to do that stuff. Pulling mobs was weird in a group, what really irritated me however was how combat was still slow and formulaic. Also, SE have apparently not caught up with the whole shared tapping and nodes concept that makes newer MMOs so enjoyable. Sigh.
…There's more and Jewel did a good job rounding things up elsewhere, so I'll stop here. I know some of these issues were fixed since beta, the biggest offenders however remain and have me worried for the game's future. To clarify, it's great so many players are enjoying the current state of ARR, and if you happen to enjoy the more traditional or oldschool approach to all things MMO mechanics, more power to you! Still, I feel let down by the lack of polish and creativity in many areas, considering how a re-launch of an already once-failed title will have much to prove in the long run.
Remembering FFXI
This is where the ranting ends because there is much to love about the FF Online franchise. When I think back on my days in FFXI, many things stand out in my memory – things that made it worth my time and that may similarly change my opinion of ARR. To list just a few highlights:
FFXI was one of the first MMOs to introduce multi-guilding via linkshells. I loved the idea, I still think it's a good one.
There was the insanely well-designed and flexible class system, with added hero classes. I was a Red Mage / Bard and up to date no cooler implementation for an MMO bard class exists to my knowledge.
As bad as auction houses were, as great was the simplicity of individual player shops via public inventory bag.
SE have always understood the importance of player housing.
Beautiful character, animations, spell effects and gear design. A beautiful world to play in, full of nostalgia and the most wonderful music.
Party combos actually mattered
My main reason for stopping FFXI was mostly twofold: the money and exp grind was insane for the average player – and FFXI was a game of merciless forced grouping after lvl 16ish with no soloability and setup flexibility whatsoever. I could've lived with much of its other imperfections and overall punishment but these main factors proved too detrimental to my longterm enjoyment and acceptance.
Needless to say, much got fixed and balanced as the game progressed. However, by that time there was another MMO called World of Warcraft demanding all of my attention. Which is where my worries for FFXIV come in: what's gonna happen to subscriber numbers early 2014, when all novelty has worn off and the game will have to put up with some serious competition? It's easy to love things when they are new. Which is why I do have my hopes up that ARR will see some much required fixing and polishing during the coming months, as more players engage with it and leave vital feedback. One can only hope for Eorzea because right now, things just aren't "good enough" – yet.