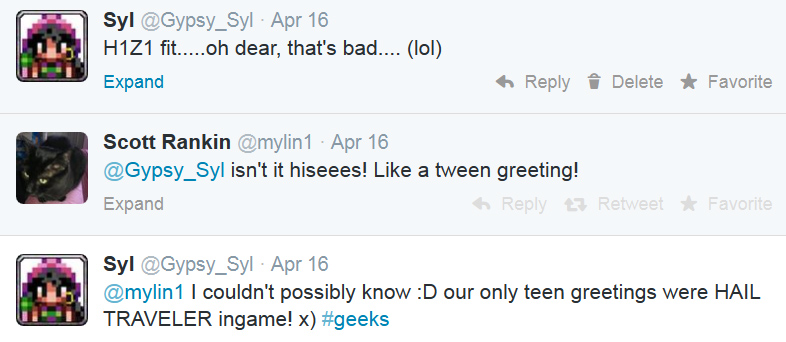 While marveling at SOE's name giving for their newly announced MMO title, a recent twitter conversation with @Mylin1 made me painfully aware of one simple thing: how much I miss hailing in MMOs and all it stood for.
What ever happened to /hail? In my memory it was the most common greeting in older MMOs, certainly in Ultima Online and it wasn't just for the role players. /Hail was part of early MMO culture, maybe MUD culture too (feel free to jump in), and it instantly gave every social exchange a more serious, almost solemn coating. It was like a portkey for immersion, a sign that this was a different world you traveled – a world of dragons and magic. In real life you were Sam the history teacher but here you were Lorella Stormcloak, five times Grand Mistress of Arcane Arts.
When and why exactly we lost /hail I do not know. Maybe it was that later MMOs outgrew the classic medieval setting of Ultima Online that set such a perfect stage for the odd Shakespearean prose. Maybe it's that after WoW's successes, the genre became too mainstream and "Mr. T-cool" to allow for this kind of geeky eccentricity. I remember still seeing /hail around in vanilla WoW but that's about the last time I've encountered it in the world of online games.
Oh hail, how I miss thee. Like so many other things we've lost on the way, you're a remnant of a bygone age, a symbol of our early beginnings.
Happy weekend holidays everybody and a solemn /hail to all of you! May your road be safe and your loot plentiful.