Below is a picture of Monty, the greatest doge in the world. He has grown up so fast since we got him in December and he's the reason I'm getting out a lot more and choose dog cuddles over video games more often than not nowadays –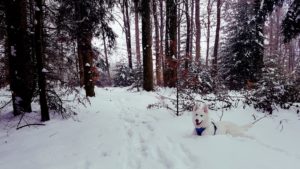 So yeah, this is a rant with all the usual hyperbolic grumpy trimmings. I am annoyed at gaming and have been for some time. It's not just that most open world MMORPGs have become convenient and boring and more of the same. Apparently Project Gorgon and Shroud of the Avatar will turn the clock back on some of these things and remind players that shortcuts are the devil (you heard it here, many times before). Or not, it doesn't matter. Both games look dated and none of them look finished, so it's another few steps down the ladder of ultimate desperation before I'll pick up copies.
The situation on Steam is even more ridiculous. As a frequent follower of new Steam releases and discovery queues, I have been appalled at the level of unimaginative half-releases for months. The great, great majority of titles in my queues or on my follow and wish lists are early access. If I disable the EA tag in my search, I end up with even worse than when I keep it. And 40% of what's actually releasing reads "Here is our open world voxel-based crafting simulation and survival game!" and every iteration thereof, sometimes it's on Mars or on a desolate island. Hooray.
After months and months of previews Kingdom Come: Deliverance finally launched in February and I haven't bothered picking it up. The game is plagued by the usual launch maladies and bugs that we've come to accept in 2010+ and there's no way in hell I'm paying full 60$ price for a broken deal. Sea of Thieves has been hyped to no end pre-release for being that super exciting Pirate MMO but just like ARK, Conan Exiles and Destiny 2 (I want my money back!) before it, it turns out to be empty promises, shamefully missing content and broken co-op features. The next big thing? More like landslides on the erosion of trust.
Game releases used to be fun – they used to be full releases of finished games. Now everything is a premature MMO and players are juggling different categories of disappointment from "needed another 3 months" and "holy hell, how is this not still beta?" to "they'll fix it next month…..or so" and "yeah, should've left it". The PC market is clearly leading on this issue which is why consoles have re-established themselves so well, getting away with exclusive titles all the time. None of this is my idea of gaming in 2018. Also I'm getting sick of hearing about Fortnite and Twitch streamers.
Anyway – I'll be back talking about the few, short games I've actually enjoyed playing lately. They weren't MMOs!