I think it was Billy Connolly who once joked in an interview that the only weather forecast you'll ever need was this: "It will rain and after the rain, there will be sunshine until it rains again". I have to paraphrase a bit because the clip is gone from youtube but anyway, it made me laugh as his dry sense of stating the obvious always has done.
A friend of mine who shall not be named is currently contemplating to shut down his blog; as you might have guessed, I am decidedly against it. I've witnessed the rare occasion over the years, and it's been six years of MMO blogging for me now, that a fellow blogger actually quit his or her blog for good (I miss you – Tam, Chas and Larisa!) and am still grumpy they deleted it. More often than not however, blogging and/or gaming malady is a temporary thing, fickle and multi-causal. More importantly, there is simply no rational reason for chucking your blog, podcast or whatever just because you're feeling out of steam for a while, heck even a long while. Blogging is not a pact with the almighty that terminates the contract as soon as you're not a good girl. Even better, your blog is just a bit of code on the internet (ya rly), it takes no space in the apartment and you won't have to dust it off! So what is this obsession with constant status reports? This is LIFE, yo!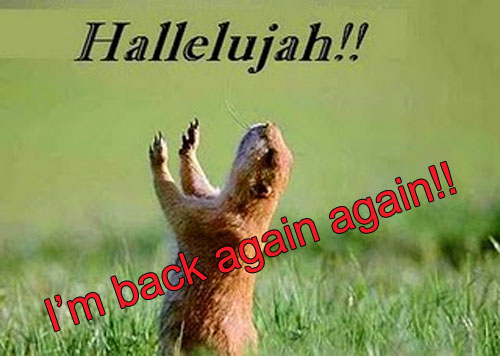 Okay, I get it – sometimes we just need an excuse to talk about ourselves and what's going on in our lives. That's cool. As far as audiences go however imagined or otherwise (I imagine mine is fairly well-dressed, wearing top hats and monocles), you don't owe anyone regular or final-ish status updates and there is certainly no requirement for grand quitting gestures. In fact, most people don't really care much if you take three weeks off or three months and whether you're on time every Monday morning or not. That said, it's completely nice to announce a longer AFK but do yourself a favor and stop the quitting business! It will save you from "oh guess what, am back…again!"-followups and potential content losses (because you didn't backup, did ya?) when that writing, ranting and rambling mood strikes again. And for most writers and oversharers on the internet, it always does!
Don't do it, okay? I hate broken links to deleted articles!
….
Since it's Friday and I'm in a good mood, I've decided to provide my neurotic friend with a "forever status report" for his blog. I don't know if he'll actually use it but it's a pretty great substitute for whatever he was coming up with instead:
"Dear readers, blogging friends and commenters,
I will be blogging a little less, until I blog more again! This is going to happen forever.
Thanks for taking note, you're all great and should totally like me on twitter! XOXO"
THE END. You're welcome, "Bob"! Happy Friday quitters and welcome back forever!