In January 2007 millions of World of Warcraft players turned their gaze towards the Blasted Lands: after two years of living in vanilla Azeroth, the Dark Portal was about to open. After too many runs through Molten Core, Blackwing Lair and Ahn'quiraj, it was finally time for the Burning Crusade – also known as "back when WoW was cool".
According to the timeline on WoW wiki, the wait time between a freshly launched installment and the announcement of the next one, consistently lies around 10 months on average (TBC being the freak) due to winter launches and Blizzcon happening in fall every year –
Vanilla WoW, November 2004; October 2005 TBC announcement
TBC launch, January 2007; August 2007 WotLK announcement
WotLK launch, November 2008; August 2009 Cataclysm announcement
Cataclysm launch, December 2010; October 2011 Pandaria announcement
Pandaria launch, September 2012; November 2013 WoD announcement
WoD launch, November 2014; August 2015 Legion announcement
The average lifespan of a WoW expansion is around 20 months. Only vanilla WoW and WotLK made the playerbase wait for longer than that. Looking back, I am shocked how soon into the glorious TBC Blizzard already announced WotLK.
Considering Blizzard have been running like clockwork for 10 years, my launch date speculation for Legion is September 2016. Given that they're down to 5.6 subscribers as of now, I wonder what else they'll come up with to span the second half of Draenor. Expansion hype or not, it won't keep more and more players from unsubscribing until the next expansion is actually here. Poor guilds.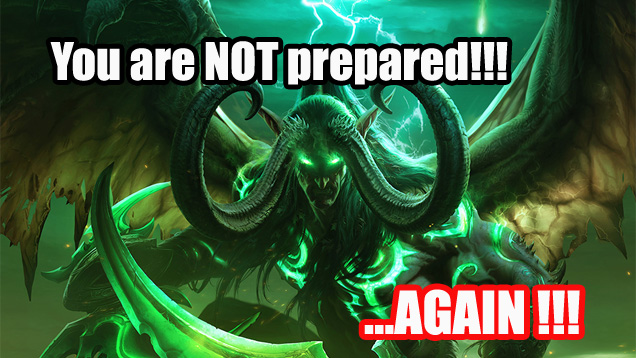 Oh and I still don't like expansions
In 2011 I wrote a lengthy rant (with very srs charts!) on why I dislike expansions in MMOs. While GW2 or FFXIV have made some progress on that front in the past few years, it seems no AAA-title can withstand them forever. WoW has always been notorious for its extreme play-cycles, with mad content rushes after a patch and profound pre-drop/-expansion malady that has players methodically unsubscribing. This vexed me a great deal as raider and guild organizer in the past, because it became increasingly difficult to keep a schedule going during the second half of an expansion.
"I want to feel part of the world I play in. I want to be included in a continuous and ever growing story. I want change happening all the time, not every 1-2 years in traumatic leaps. I want stable and lasting fun, not a curve that goes from player fatigue and long wait times to over-excitement, before tumbling back down into the valley of tears. I don't want to regularly un-subscribe from the MMO I am playing because it's delivering content in situational peaks." (Syl)
Besides impacting negatively on social stability, WoW expansions have always had more negative side effects. They affected the game's economy, rendered our gear and trophies obsolete (green is the new purple! even for legendaries) and deprecated a major part of the previous world and content. That last one is a particularly sore point for players like me.
One the other hand, regular and smaller content patches don't exhaust their audience and don't reset their status quo in the world over night. They don't hit guilds with simultaneous player exodus over and over. And there's also less pressure and therefore less potential disappointment riding on patches. Didn't like a particular chapter or felt bored with it? Well, the next one isn't far off!
So really, what can expansions do for MMOs that a patch cannot? Okay – there are a few things, in fact Spinks (who is dearly missed!) has written about the differences between expansions and patches five years ago on her blog. And I agree with her: expansions have a more fundamental power to reset/expand a world or introduce a new one. They're a marketing tool for bringing players back and maybe recruiting a few new ones. The extra cash from selling copies and CEs might make up for 40% of your subscriber-base leaving several months before each time, I don't know.
I can't help but feel these apparent benefits aren't what they seem at first glance; not if expansions basically act as a "correction" of your own business strategy. If they bring back players you lost along the way due to how you're handling content in the game, that is not a very good argument pro expansions, even if it does the job in that case. As for continuously introducing new worlds and abandoning old ones, what does that say about the longevity and depth of your work?
The WoW expansion model is its own enemy. Blizzard can't turn back and change their strategy of so many years and they've bred their very own audience since day one, so I understand that they're stuck with it. However, their example doesn't do a very good job advocating for expansions in MMOs and thus I remain as ever, respectfully on the other side of that fence. You could say I am not prepared. Again.