So you just hit 50 in Wildstar and wanna look fabulous, cupcake? You don't have any of those shiny beta or early access sets to start off? Fret not, there are a few quick and cheap ways for the early light armor wearer to feel like a pro!
Before I get to recommendations, a few words about Wildstar's current customization: the dye system and gear management are pretty bad. Not only is there no outfitter built into the game by default, the dye menu is fussy, buggy and will make you pay each time you apply a different shade of color to your outfit. Items can only be used once per set, so there's no copying over the same headpiece to different styles.
On the upside: Wildstar lets you equip all armor classes as cosmetics! That means as a light armor wearer, you can still go for that heavy plate look even if personally, I choose not to. A guildie told me my character looks straight out of a fantasy MMO rather than a sci-fi one, which is probably true (a tiger can't change its stripes?). I like pretty and magical things, what can I say!
Four awesome sets for the distinguished Esper (and anyone else)
Below you'll find four of the light armor looks I'm currently using and which were all pretty easy to collect, either from zone reputation vendors and/or the auction house. Wildstar frequently recycles gear looks too, so better not cling to the one source/name I will be giving for every look. What you want to get right away however is the Item Preview addon which will make your life that much easier (it also previews decor items). Sets are numbered 1-4 from left to right and are mostly mix'n matches. Level requirements aside, none of them should be faction- or otherwise restricted.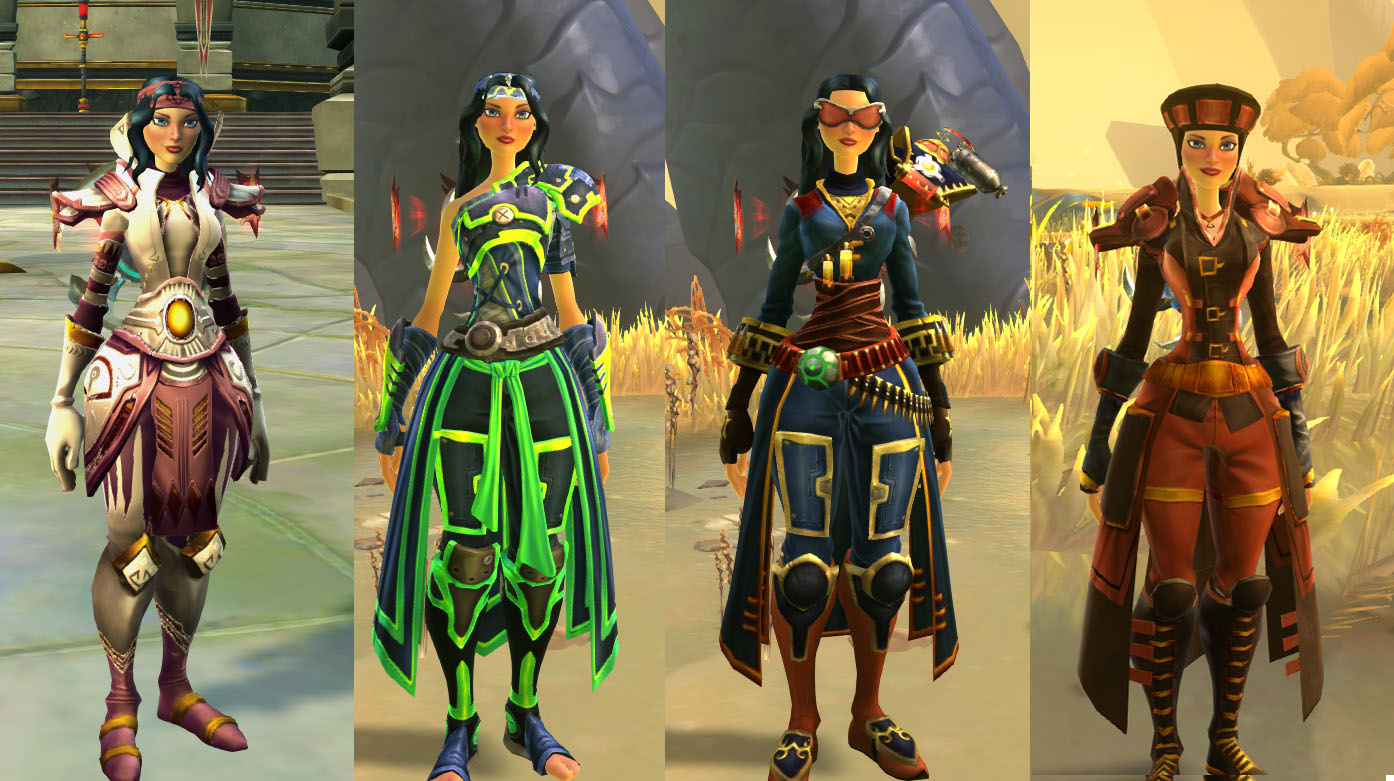 1) The Quintessential Healer
My favorite set in the game, I got all the pieces for this look from the AH right after hitting level 50. The chestpiece, shoulderpads, pants and boots are all part of the "Fibermod Starloom" series, combined with "Hand of the Tumbling Torrent" and a bandana headpiece which exists all over the place. The Fibermod look can also be acquired through some rep vendors. I caution anyone not to trust the colors of item preview in this case(!): if you get these items straight from crafting or the AH, you'll find the colors are buggy and the set needs to be re-dyed completely (which is totally worth it!).
2) The Starship Trooper
As close to a sci-fi look as I'm going, you'll spot many color variations of this set from random drops and reputation vendors as you are leveling up. One quick way of obtaining all the pieces is visiting the rep vendors in your capital city, two of which will sell you the entire "Suede" set (lvl 45) for about 25 gold total. From there it's up to you where to go with this and colors may vary from a shrill space look to much more delicate shades. This is a very transformable set!
3) The Galactic Explorer
A more recent acquisition, I love this set for both its royal and slightly goofy looks. All items bar the sunglasses (which are a soulbound epic boss drop called "Mindmender's Mask") are obtainable at the reputation vendors in Blighthaven ("Blighthaven" set items) for about 30 gold total (the original headpiece is this oriental looking facemask). As you can see, I rolled with my previous pants here instead.
4) The Classy Gentlewo/man
Not feeling the headpiece, I'm liking this set for its more low profile leather and velvety flair. The headpiece and gloves are part of the "Fibertronic" set items, chest and pants are part of the "Polaris" set (the chestpiece can also be acquired from the rep vendor in Grimvault and is called "Polaris Premiere Polyweave Hauberk"). My shoulderpads are called "Supply Master's Burden" and the pretty awesome boots are "Crimson Crescent Slippers" – all of which were acquired through the AH.
Maybe even more than in other MMOs, dyes are everything in Wildstar and many sets will only shine once you applied better colors to them. While dye acquisition is harder leveling up and mostly up to lucky drops, housing challenges or the overpriced Commodity Vendor, you will be stacking up on dyes swiftly once you are eligible for the daily quests in Northern Wastes at level 50 (which can get you up to 5-6 dyes per day with several definite drops). With that, I'd say there's no time to lose – tackle that max level already and enjoy playing around with different styles and colors! Happy customization – for science!