I am a 30+ MMO player with a history. I don't speak for all 30+ MMO players with a history. This post is about many things at once.

Not too long ago I had an interesting discussion with an old gaming buddy reflecting much of the current MMO malaise that seems to have struck several bloggers around the blogosphere lately. The most memorable statement in our conversation was this: "Wildstar is going to be my last MMO" – something that I've heard several times now and keep reading on the official forums. Clearly MMO culture is in a phase of re-evaluation both on a personal level and otherwise.
On the surface, such final player declarations appear singularly odd and certainly unique to the genre; never would you hear anyone say "this is going to be my last RTS ever" or any variation thereof. Why would anyone make plans for their last MMO ever?
Of course the answer is simple for those among us who have been there – played MMOs, breathed MMOs, lived inside the same MMO for years. This genre is not like other genres and neither is its commitment. Players are passionate about their character progression, their guilds, their dramatic quitting gestures. And sure, there are exceptions to the rule, players content to solo and never invest in any type of cooperative endgame. Yet, there is still a consensus, spoken or unspoken by developers too, that the heart of the MMO experience lies in cooperative multiplay. A big chunk of content gets created entirely for this reason, for better or worse.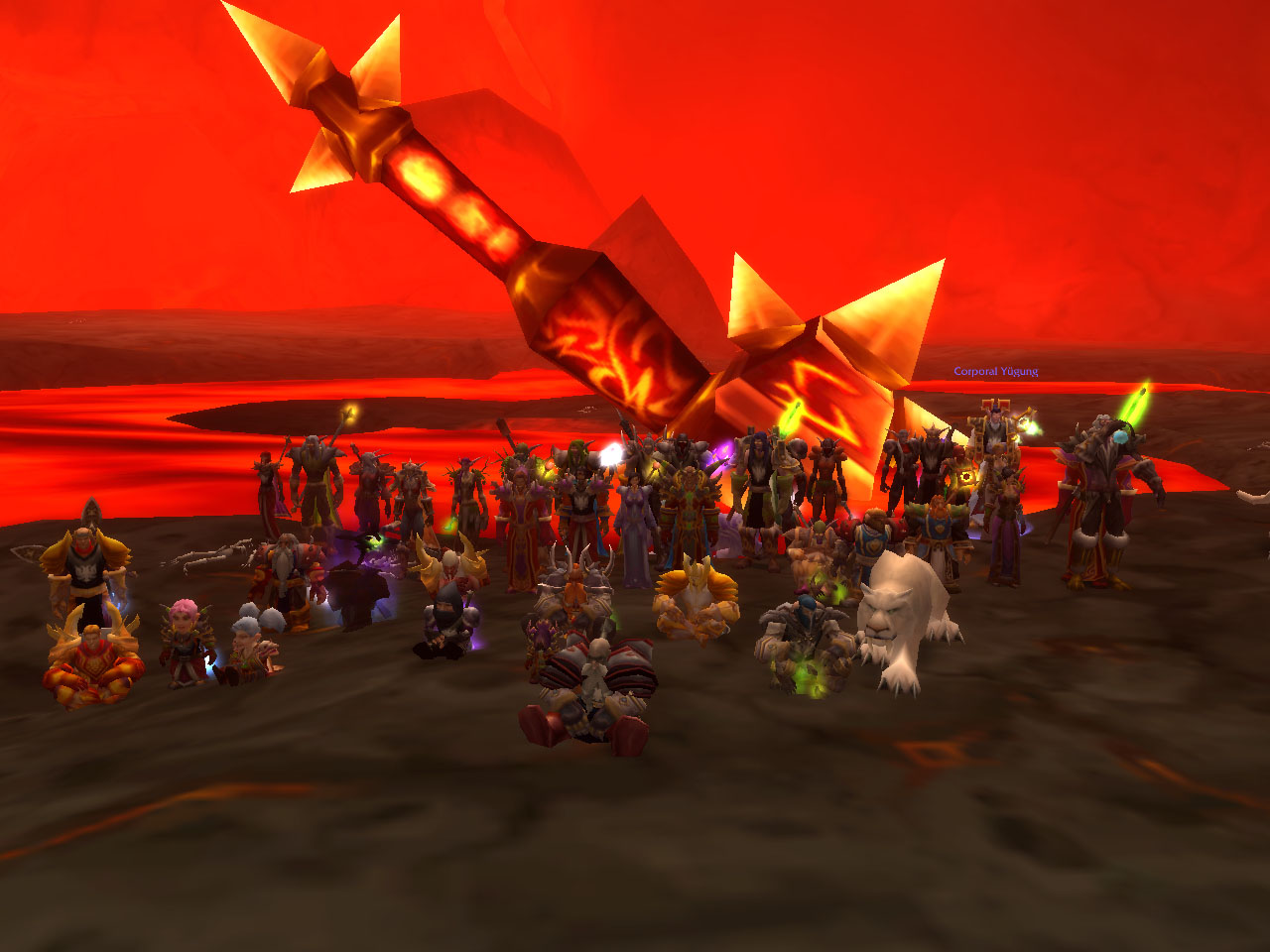 And multiplay takes extra time, in fact not just when you're in the middle of it but way in advance. Looking for guilds, spending time getting to know a community, working around timezones and schedules in order to group up and advance together, that's a type of effort that asks for special dedication. For the more fatalistic among us that don't do casual solo even when they aren't hardcore, this also means the decision to jump into a new MMO is one that must be carefully considered. There is no time to waste or something, it's either all or nothing.
All of this resonates with me given my early WoW history. However, there are times when I wonder if it's really such a good thing to make one's own happiness so dependent on other people (it's not like that ever works out in real life). I love the cooperative aspect of MMOs but they are also virtual worlds, canvases of beauty I'd like to travel and explore. The older I get, the more there is compromise to my own time spent in games. O tempora, o mores, I guess.
The Troubles of Aging together

That said, I'm a player who is still counting on social ties for longterm dedication and so many times since WoW have I been flustered about MMOs not bringing back the "good old times". Of course there's a pattern here; you'll never hear an early player talk about the good old times because there are no such times (yet) to make flawed, subjective comparisons to.
The only reason I'm probably still playing Wildstar every night and enjoying it immensely is social environment. I'd still be paying a sub and exploring the maps of the Nexus but as a solo player or member of a dwindling group of peers, I would never have bothered to acquire the Genesis Key, step one of the attunement of doom. Wildstar might actually be another MMO on the shelf already, as it is for others that used to be more excited for launch than myself. I'm still in though and wondering about the reasons, knowing at least half of the answer:
I started playing Wildstar with three old WoW buddies of mine, all of which have drastically changed weekly schedules now that they're in their 30ies rather than early 20ies. So do I, despite all of my personal time still being my own. I am not 23 anymore, I need more sleep than I used to (it's true and I hate it), I don't do rushed PC dinners any longer and I have no wish to be in charge of anything or anyone else than my virtual self when online. I'm still looking to be a regular in an efficient and fun guild though, one that manages to balance the hardcore casual for lack of a better word.
Facing the fact that a group of ex-WoW raiders now all in their early thirties don't stand a chance lasting in Wildstar's endgame (we've tried and failed before), I soon resolved that our small guild needed to move on and reinforce a bigger team run by fresh people full of "MMO-oomph". It's been the best decision possible both for my own enjoyment (and hopefully theirs too) and dedication to the game. More importantly maybe, hearing others talk about the game made me realize that MMOs are as new and wonderful as ever for players of another generation – the players we used to be ten years ago. In no way is Wildstar inferior to WoW when it comes to how it's handling group content. Nothing has changed in that department – we have. The people around us, our original peers have.
Early MMO enthusiasm is contagious. So is dwindling enthusiasm.

Truthfully, every MMO since WoW was a game I tried to re-connect to together with my ever less active WoW buddies. You could say I've kept trying to recreate my old communities elsewhere, as so many of us do. A guild's greatest virtue which is bonding with others, becomes it's greatest peril in the long run when communities get so insular that there's hardly room for new blood, not even across games.
Yet the more we kept to ourselves and didn't mix, the faster we dwindled. It's a downward spiral and it doesn't work. Soon everyone's frustrated that they can't ever seem to get a full group for anything. Maybe somebody out there knows a critical mass of 35-year old MMO veterans that are mostly regulars but I do not – and you need a regular (slightly nutty) core to run a guild effectively. Now that I'm in a way more mixed guild with dedicated leadership, I feel completely boosted by their enthusiasm. Who are these people and why are they having so much fun? Oh wait, I used to!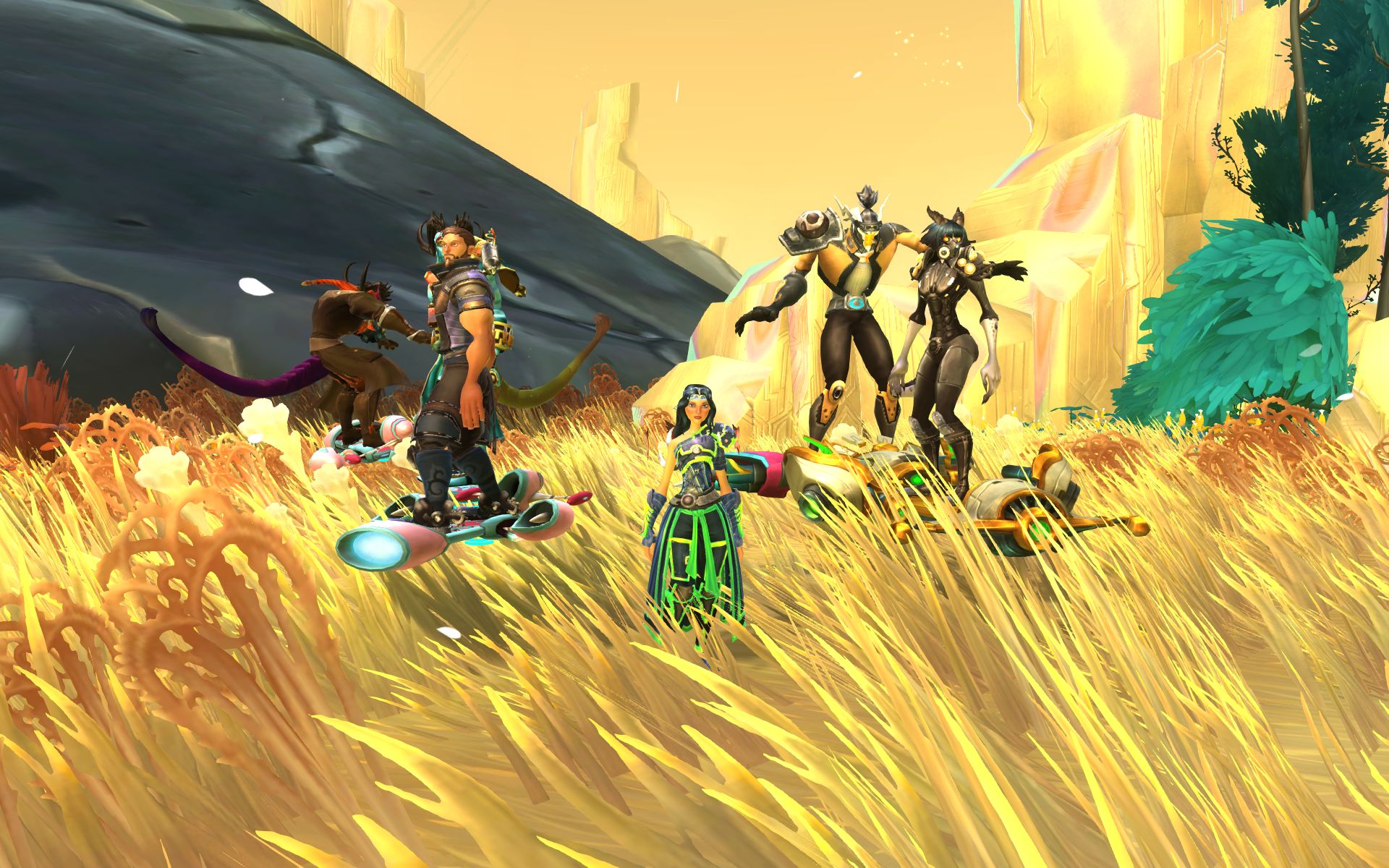 Luck and then some

There's always an element of luck and timing involved when we start out in new games and looking for a new guild can be tough. I'd certainly call it a piece of luck to have chanced upon an active bunch of people with so similar a player ethos to my own. It would be amiss and incomplete however, not to try analyze things beyond luck.
Mingling with a wider age range aside, the choice of RP server and faction is probably crucial. On the only EU-RP server, Dominion side is a very calm and underpopulated place to be a Cassian, with dead zone chats and limited wares on the AH. My first instincts were calling it a bad choice when in fact, it's the most beneficial thing to guild life. Players need their guild. Already this community feels tight-knit, the way it only happens in MMOs after launch rush is over and grasers have moved on. It's the people who stay behind that you want to guild with.
And so maybe, it all comes down to this: staying behind and choosing to be part of a new, active community rather than maintaining an old one. Rolling on a cosy low-pop server. Sticking with that choice past launch rush. Not so different from ten years ago. We blame design a lot of the time when it comes down to frustrating social factors that ultimately, we're both in control of and aren't. Even if an MMO facilitates group play, and I believe Wildstar does, commitment remains a choice and unfortunately it's not enough to make that decision yourself, you need others to make it with you. So maybe new blood is where the aging MMO player needs to start focusing his or her attention, if future gameplay experiences are meant to outlast a brief visit. I am guilty of having lived in the proverbial past.
For the Record
I love MMOs and I intend to play them for the foreseeable future. I believe that my generation of gamers especially, born in the 70ies and early 80ies, have an important and unique opportunity to be rolemodels for everyone else to come, doing away with gaming misconceptions and stigma. Yes, you can be an older gamer! No, gaming doesn't have to stop at 30! If we can embrace ourselves and let go of the good old days in favor of new ones, new people and new experiences, there's nothing to stop us from becoming the first gamers to happily make it to retirement (just think of all the free time!). Loving this place that is the MMO blogosphere, I hope to see you there.