It is the weirdest thing when our plans go topsy-turvy, when the things we thought we were looking forward to fail us miserably and the ones we never even considered, take us by surprise. What do we even know? Nothing.
Sometimes we think we want one thing only to discover that we really didn't. Something looks just right and suitable in our mind but in truth it never was or will be. In the end, what we want and what we need are two different things and that's something I have learned before, at a time when I thought I knew exactly what (and whom) to pursue in my life. And then seemingly out of the blue, someone came along and told me he was all I needed.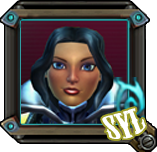 Right now, I should be playing Guild Wars 2 or The Elder Scrolls Online because they look like everything I want in MMOs. Instead, I am playing Wildstar – a game with traditional questing, a holy trinity and cartoony graphics. Not just that, I am enjoying myself. A lot.
Anyway. Happy Wildstar weekend everybody! The Nexus awaits and my olde healer muscles are aching for practice. Never say never.