I want to say 'finally' but last Friday's NDA lift for ESO was so shamefully overdue that I almost didn't care to post about it. The game is due in April and already selling a much debated collector's edition, so how nice to finally give the fanbase a voice two months before launch. We will try not to interpret the long hesitation. Personally, I believe Zenimax have caused this launch more harm by keeping ESO under NDA for as long as they have. Not only wasn't the press particularly gentle once the press NDA got lifted (see RPS or Ten Ton Hammer for reference), the title would've benefited from the buzz created by more balanced and positive blogger reviews. After all, there are still many players excited for ESO.
I used to be one of them but alas, that enthusiasm was shaken in its foundations after participating in two of the more recent beta stress test weekends in January and February 2014. To be fair, I didn't have the bar set very high for ESO: I expected it to feel more dated and traditional than the other upcoming AAAs this year, less polished and overall pandering to the Skyrim demography. Yet in retrospective, the Skyrim comparison is doing things far too big a favor.
My quick and dirty ESO review
While I don't wish to rain on anyone's parade, this much anticipated game has dropped on the 2014 priority list much to my chagrin. I don't intend on buying at launch, in fact I am not sure I'm gonna buy at all for as long as there is also a monthly subscription. Subscriptions aren't a financing issue for me but like everyone else, I draw comparisons and try to justify the expense. ESO, for me, is not in the right shape to ask for a sub. But let's have a more detailed look, shall we?
The Good (at first glance):
The settings of ESO are very pretty. Having visited every faction's starting zone, I liked them all equally as far as overall zone design, weather effects and light cycles go. The world feels more realistic than in many other MMOs, if that's a criteria for anybody. I love the mature and authentic look of ESO.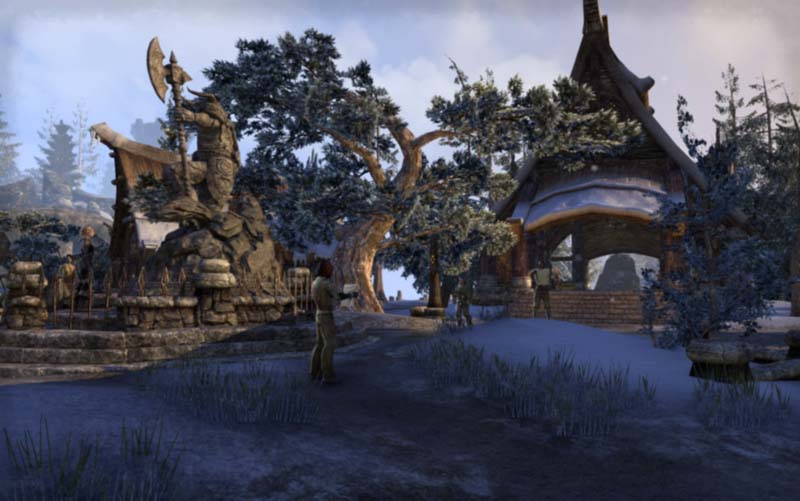 The diversity of character customization is a forte of the franchise and ESO is no exception. While some basic faces across all races feel too templatey still, you won't be missing options inside the rugged, old, scarred or unattractive spectrum; like every ES title before it, ESO makes it hard (but not impossible) to create your staple beauty. Really big props go to armor design which doesn't discriminate gender and keeps things in the realm of the practical.
The crafting system appears to be complex and rewarding. While I've only meddled with it briefly, I could see crafters getting their share of attention and I didn't expect anything less from this MMO. I liked the crafting hubs too and many of the small details for tools and ingredients.
The Bad (or why I was so appalled):
ESO gotta have the most sloppy and inaccurate combat I have experienced since [add random console hack'n slay title here]. What was already a boring exercise of throwing lackluster magic balls as a caster, went downhill fast once I experienced the completely unresponsive dual-wielding mess of melee mode. Combat is missing feedback, aiming is off and animations are frankly awful. I don't want to look like a WoW undead when moving around hitting stuff. There is nothing of Skyrim's more impactful combat and precisely aimed shots to be found!
While we're talking animations, they are mostly horrible. I made a particularly awful acquaintance out in the wild with an eagle circling my head, its flight animation as graceful as a tour bus trying to squeeze into a beetle's parking space. It's great that ESO has birds flying around, you just don't want to look at them too closely.
As beautiful as the world is, as dead does it feel traveling from place to place. The NPCs do precious little which is a stark contrast to MMOs like FFXIV for example, that comes with complex scripts for NPC behavior and events. Towns feel empty and there's no life bustling inside unless it's created by a bunch of coincidental players. This was very disturbing for me, especially since the more dynamic mechanics in Skyrim would constantly throw you into unpredictable situations and have quests and NPCs involve you actively. This is something that GW2 managed to do while being an MMO, so ESO gets no pass from me here.
Questing is a traditional and straight-forward fetch and delivery, featuring the transparent quest window and occasional dialogue choices that franchise fans will know too well. Friends of the tunnel experience in MMOs will be glad to hear that ESO makes you play through the same dark pit for 15 minutes on every new character. As far as the NPCs and (much praised?) voice acting go, I was under-whelmed and sometimes appalled at the sound and look of some of them, their shrill voices and bland, badly written humor harassing me during several multi-step quest chains. The early "John Cleese" appearance has already been criticized by others but I reached my personal high point with this remarkable fellow here:
A difficult closure
At this point, I don't know when I will be ready to give ESO another go. My admittedly short beta testings were a painfully disappointing experience and while they might not be completely fair or balanced, they are lacking in ways that cannot be made up by playing the game longer or praying for the unlikely wonders of another two months of final polishing. My issues with the game are of no subtle nature – they are fundamental. Which makes me think that ESO just might not be the MMO for me after all. That is something I have to accept and which makes my return to the wonderfully dynamic and physical world of Skyrim all the more likely. I used to dream of adventures in ESO but that arrow to the knee was quick. Ah well!