Dragons. Formidable beasts of fantasy and wonder. The stuff of nightmare in many a heroic story of folklore, mythology and children's tales. Most beloved foe of the high fantasy genre be it in movies, books or video games. Where would our MMOs be without dragons? Who doesn't love dragons?
From an early age I was fascinated with draco, also known as dragon, drake, sometimes wyvern or lindworm. I was a child of fairy tales and the big bad wolf aside, which mostly just scared me, dragons were the most fascinating and exotic creatures that would inspire my wild dreams like none other. I remember a particular story in my vast audio&textbook collection about a green dragon and a knight; the pictures of the ferocious beast gave me such nightmares that my mother glued a blank opaque paper over the pages so I could follow the story without seeing the dragon. Bless our early beginnings.
Remember with your heart. Go back, go back and go back. The skies of this world were always meant to have dragons. When they are not here, humans miss them. Some never think of them, of course. But some children, from the time they are small, they look up at the blue summer sky and watch for something that never comes. Because they know. Something that was supposed to be there faded and vanished. Something that we must bring back, you and I. (Robin Hobb, Golden Fool)
Later I discovered the dragons of D&D and in particular, the Dragonlance; that's when I irrevocably fell for this genre, absorbed in pages full of colorful illustrations by Elmore, Parkinson, Caldwell and Easley. My first artbook was a Larry Elmore limited edition which me and my best friend ordered on that novelty called the internet. I remember sending Larry a short thank-you email for the exclusive sketch he had done in each of our books, adding this well-wish: "may there always be dragons soaring across your sky". I imagine he can see them whenever he closes his eyes or how could he possibly illustrate them in such stunning detail?
…the Dragon is the Patron Saint of all storytellers and artists and his likeness has adorned canvases and stone and has been forged in every precious metal. (Guillermo del Toro)
The Dragonlance Chronicles also opened a new, more modern perspective on dragons for me: dragons that are more than mere alien beasts and forces of nature. Dragons that have a face, that are scheming and cunning creatures of magic (sometimes shapeshifters like Silvara whose name I've adopted). Dragons that can choose different allegiances – good or neutral as much as evil. I love when dragons get to be real characters in stories and not just the ultimate yet dumb antagonist for the glorious dragon slayer. When a dragon ends up being little more than a T-Rex, that's what I like to call narrative mistreatment, a lost opportunity. As far as morphology goes, it is interesting to note that historically there's a distinction between European and Asian dragon tradition, with European dragon imagery being the predominant representation still in our western culture (with legs, wings or the ability to breathe fire) as opposed to the more snake-like Asian dragon (also naga).
MMO Dragons through the Ages
With the amount of dragon imagery and tradition out there, it's no surprise that fantasy MMORPGs too capitalize frequently on our fascination with the winged, fire-breathing reptiles. I'll come forth and say that I never ever tire of dragon encounters in MMOs; give me Blackwing Lair, Onyxia and the Dragon Aspects any day of the week! My favorite boss encounter of all time will probably always be Lord Victor Nefarius aka Nefarian which in my humble opinion, was a way more fascinating figure than Deathwing.
WoW is a game that loves to flaunt its dragons and "dragonkin" as foes but also mounts or pets. GW2 features the most breathtaking dragons for me as far as sheer size and dramatic entries go, so while ANet failed to make Zhaitan and Co. a particularly interesting bunch, the Shatterer or Claw of Jormag encounters will always hold a special place in my heart. Who would not feel awe and terror facing this? –
Musing on dragon history and my favorite encounters in MMOs, lead me to a full-scale investigation of MMORPG dragons of the past, present and future. As far as popular mainstream titles go, there's not a single game that didn't feature draconic foes at some point or other – or is there? Anyway, let's look at my quick and selective chronology of MMO dragons (you can find the full-size wallpaper of the image here):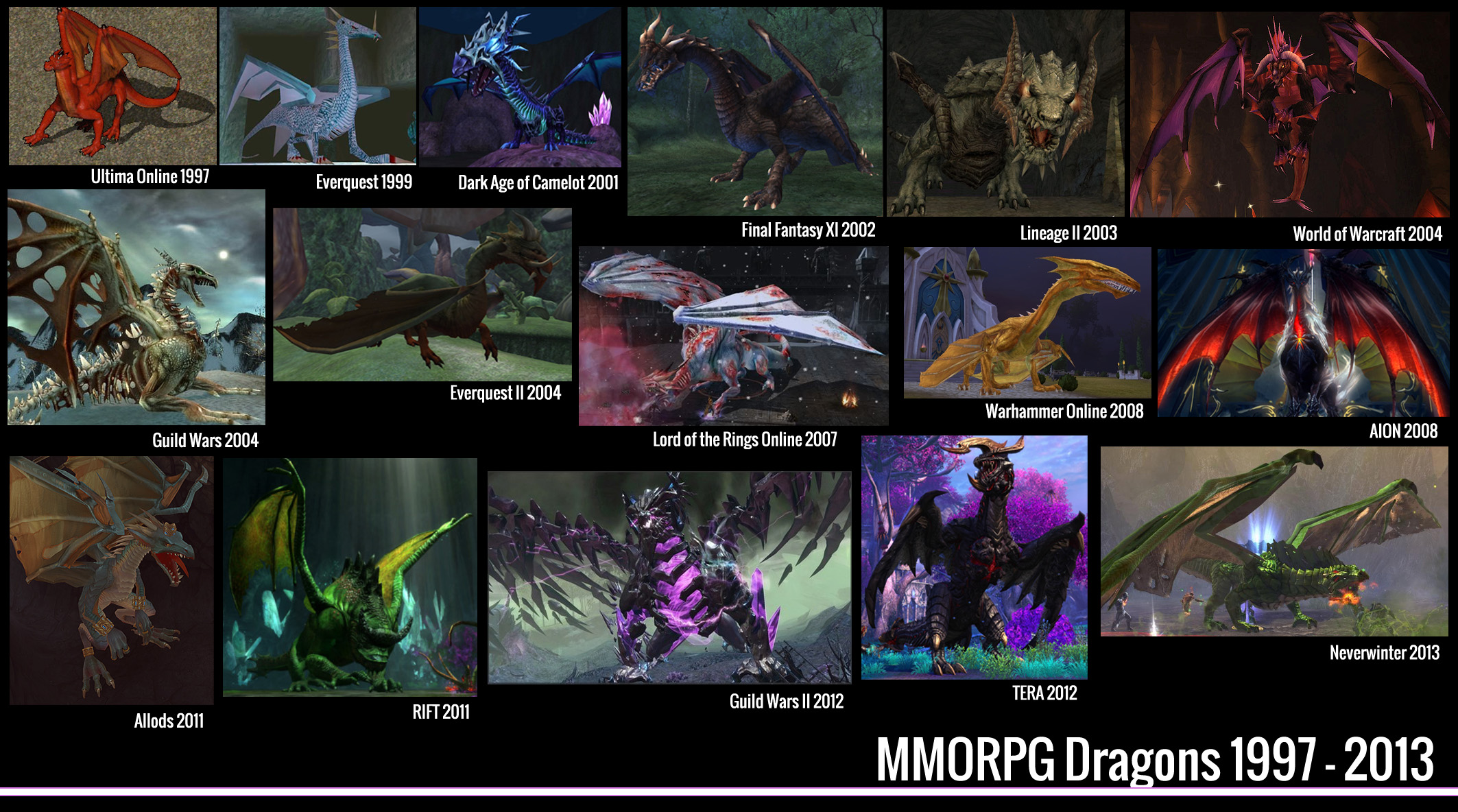 While we've come such a long way graphically since the dragons of UO and Everquest, today's MMO dragons have the same effect on players and still follow the same narrow design template. AION probably holds the trophy for the most beautiful and lavish dragon design. If I had to try and tackle the beast, put into words what still makes dragons so appealing to lovers of the genre, I'd call it a mixture – the fear of the unknown and supernatural as much as a fascination with the majesty, power and wisdom of a sentient being that shares traits with familiar animals. More than any other fantastic creature, dragons embody the virtues of a magical world beyond our wardrobe and maybe our longing thereof. Or as this article concludes beautifully, quoting a Tolkien essay:
Fairy-stories were plainly not primarily concerned with possibility, but with desirability. If they awakened desire, satisfying it while often whetting it unbearably, they succeeded… The dragon had the trade-mark of Faerie written plain upon him. In whatever world he had his being it was an Other-world. Fantasy, the making or glimpsing of Other-worlds, was the heart of the desire of Faërie. I desired dragons with a profound desire… the world that contained even the imagination of Fafnir was richer and more beautiful, at whatever cost of peril. [JRR Tolkien, On Fairy Stories]


That is the gift of dragon-sight; the purpose of the dragon quest. Dragons embody the beauty and the peril of an "other world" that is "richer and more beautiful" and full of strange and marvelous things.
I look forward to meeting more MMO dragons in the future. I'm not sure about Wildstar but it's probably safe to say we'll see more of them in Everquest Next, Elder Scrolls Online and certainly WoW. What are your favorite dragons in MMOs? And is there anyone who's tired of all the dragons? I can't imagine my virtual worlds without them.