Am I gonna rant. I can't say I've been particularly amused where some recent developments in the game industry are concerned. In fact, I detect a backward trend – of faux values or faulty conclusions, especially where game journalism is concerned, a celebration of pretentiousness and a hype of the trivial that makes me wonder when we stopped asking games for everything in order to receive something, preferably better.
Ever, Jane – Bringing Women's Fantasies to Video Games
If there's one thing I personally like to do less than having to read one more Jane Austen novel in my life, it's playing a Jane Austen MMO. To be perfectly clear here: I've no issue with players excited for new, non-combative MMO concepts nor the developers of EJ for that matter. I am incredulous that kickstarter was funded but whatever floats your boat. If ballroom dances replace "epic raids" for you and gossip is a preferable form of combat, why not knock yourself out in a romanticized historical period setting where women were worth less than silver cutlery – yes why not? That prospect is about as exciting and empowering to me as root canal treatment but what has really kicked off this whole EJ-rant is the subtle assumption that this particular game is somehow for women. Or as was stated so wonderfully in a recent interview title on MMORPG.com: Ever, Jane – Bringing Women's Fantasies to Video Games!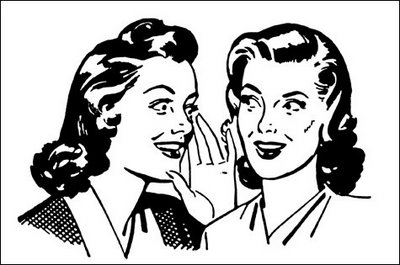 Whoever is responsible for that wording on one of the most popular MMO gaming sites today, needs to seriously check themselves. I gotta say, it's a depressing time for female gamers when the MMO worlds we are seeking out ignore us completely or make us a mere afterthought – and the ones we don't wish to be part of are supposedly MADE for us! Oh the lofty art of gossip, such a womanly skill indeed!
Indiemania – Because nostalgia fills in all the gaps! NOT.

In April 2012 Jim Sterling of Gamefront asked the provocative but very reasonable question of whether we are being too generous to indie games. One year and a half later, after having had some of the best times with stellar titles such as Don't Starve and Dust: AET this 2013, as well as some of the most incredulous laughs since Atari multigame packs (ou…ya), I echo his sentiment. The unabashed praise that some indie games have received of late by game journos for doing one thing right (thank god for commenters) as opposed to the top level criticism received by full-package, all-around polished titles such as Bioshock Infinite or Assassin's Creed IV BF, is nothing short of a baffling double standard – not to mention unjust towards anyone involved in creating latter games. For some reason it's become a very personal, almost unacceptable matter to sternly criticize indie developers. Yet, with big labels it's still "anything goes" because no real people and livelihoods are involved there.
As Rampant Coyote recently pointed out, what makes the indie "revolution" so great is the liberation, the literal independence from investors, publishers and distributors due to the chance for smaller venues to get noticed in a sea of big fish –
The whole "revolution" and term "indie" was really about a back-door way to set ourselves apart from the guys spending millions of dollars on TV ads, so that gamers *might* take look off the beaten path once in a while and see what we were doing. To the people (especially the press) who weren't really paying attention, sure – it's a revolution. Or maybe just a revelation. They turn the corner from their thoroughfare and say, "Holy crap, when did all THIS stuff get built?" and don't realize it's all been there forever. [Rampant Coyote]
What indie absolutely isn't, is a commendation of any kind; an assurance of quality or innovation or worse, an excuse for laziness and mediocrity. Naturally, the successes of titles such as Braid have created a bubble, encouraged an unmanageable flood of cheap copies and lazy attempts at retro homage to a point where ugly pixel graphics and 8bit bleeps are associated with being subversive, deviant or new wave. As someone who actually doesn't consider retro new wave because I've been to original retro, I've endured original retro, let me say this: there is no inherent virtue in pixel graphics. None.
Now, some games make the retro look their own; they take it a step further, creating something beautiful or unique. These games are rare. They stand out from the crowd and justify simplicity. They don't look retro because they "were rushed" or "didn't have the manpower" or "funds". They still deliver a package. One of my favorite games this year was created by one guy – it features the most polished 12-hours gameplay experience, retro and contemporary indie homages alike, a deep story with loveable characters, secrets to discover and an off-the-charts soundtrack. You'll hear no one-man indie excuses from Dean Dodrill.
I have no indie love for indie's sake. I've no love for games that get slack for reason XY when others don't – that's not how I perceive my role as a gamer. I've no love for game journalists celebrating the emperor's new clothes in a rush of undifferentiated or artsy hype, at no one's service but their own. I've no love for developers trying to get a free pass for pushing my nostalgia buttons –
We should all strive to look past the smoke and mirrors of modern indie developers, to see which ones are passing off shitty games as indie darlings by pulling on our nostalgic heartstrings. We ought to tell an emotionally engaging art game from one that's just making indirect references to the "human condition" in order to look smarter than it is. [source]
I am not interested in asking less of games. I still want games to get better in every way possible. And I hope this has something outrageously good going for it, because it sure as hell doesn't look that way. We can have the morals and the story, as well as the package? Sorry I even asked! (GOTY of 2014: PONG!)
Seriously, there's no such thing as enough (good) fantasy MMOs
This last argument isn't so much a rant as a disagreement really and an evergreen at that. The lovely Mike Foster over at Massively recently ventured forth to state that we have had enough fantasy MMOs already – to which I had to respectfully disagree on twitter: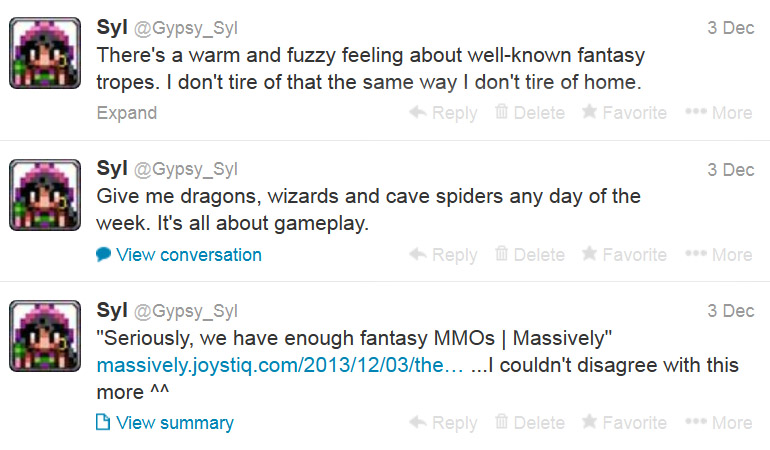 Now I do get the genre fatigue, I really do but let's remember correlation. If players are tired of dead horses such as ever being the hero, the holy trinity, traditional questing and foreseeable ends, then that's an issue of gameplay first and foremost: of mechanics, of writing, of balance and overall lack of imagination. Which is rather ironic given the setting. We should absolutely ask for more.
However, kill ten rats is still kill ten rats in a zombie or space shooter MMO. Personally, I can't wait to play more fantasy MMOs in the future with dragons and shameless magic of which there can't ever be enough. I also hope they'll do new things, show us new twists while playing differently, daring to use their unique fantasy on the fantasy. If you got the setting down, surely you can start focusing elsewhere?
And if everything fails, I can still go ballroom dancing in Ever, Jane. I wonder if I can bring my retro flamethrower.