Just when I thought I was pretty much not going to play Wildstar this year, Zenimax Online dropped the bomb and announced that The Elder Scrolls Online release date would be pushed back to spring 2014, to meet the launch date of Sony and Microsoft's next-generation consoles. That's one of the many things this "MMOs go console"-trend is gonna do for us in the future: delay stuff. Porting to different systems, creating individual interfaces and testing everything cross-platform takes time. Well, great. If it meant that the MMO community is growing, I could probably live with that but since servers will be split between different systems, there's not really an upside there for PC players other than that Zenimax make more money (which will hopefully go back into designing great, future content updates).
So…Wildstar. A while ago I mentioned that no doubt this is a polished game with a good shot at the World of Warcraft demography. Since then, Carbine have been pretty open about it too – yes, we're coming for ya, Blizzard! Only, we have the updated questing system and awesome player housing, along with all the PG-rated candyland. The latter is still one of my biggest qualms with the game: I am so over the Warcraft cartoon aesthetic. I do greatly appreciate the maturity in MMOs like Age of Conan or LOTRO, Rift and GW2 too are on my good side even if slightly more to the center of that Venn diagram. Wildstar shoots the hyper-fantasy rocket into deep space where it crashes somewhere between Outland and a Pixar movie. This is certainly no sword&sorcery MMO. But I digress.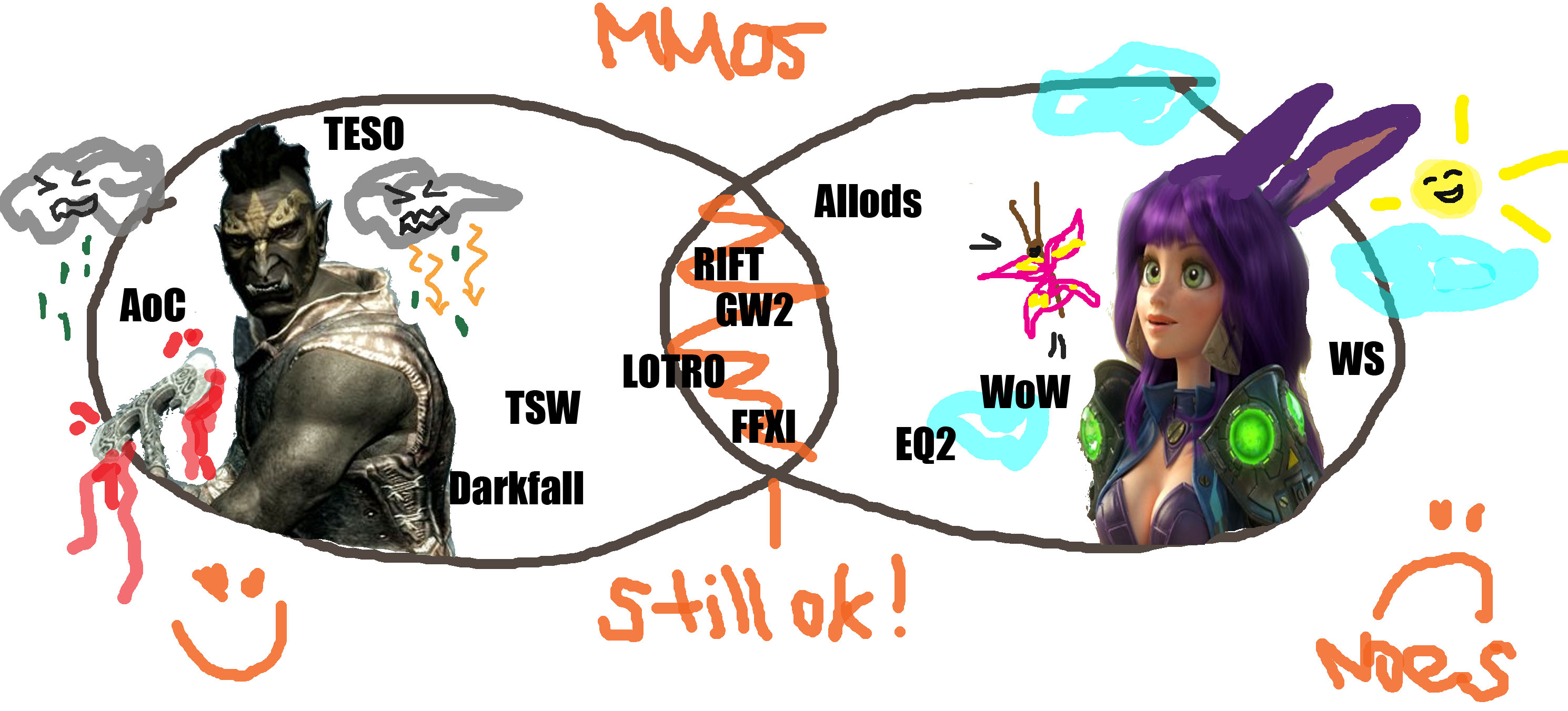 Feeling the Explorer path
Carbine's spin on the Bartle profiles is interesting and if I was to choose a path for myself, no doubt that would be the explorer's. Or such would've been my initial reaction because y'know – wandering around at random is awesome, listening to the world, discovering secrets and taking the long road whenever possible. Only, that's not really what exploration means every time.
It struck me that while exploration has been widely praised in GW2 (and justly so), it's also one of the most popularly gamified activities in the entire game. Players say exploration and mean "climbing all vistas", hitting all pre-marked (!) points, "doing all jumping puzzles", "getting the 100% achievement". See that there? – Not me! I couldn't care less if my world map is complete in GW2, I've a feeling it's currently somewhere around 60% and that's with me playing since launch. When I explore I don't set out to find every last corner of a zone, let alone doing silly jumping puzzles. Oh, how I hate them. I want to smell the flowers and go wherever chance takes me. As for "mapping the world" –
"…there's nothing worse to me than a world that's fully discovered, fully mapped and fully understood. The moment we draw the last line in that picture is the moment we limit our world, the moment where it becomes small and finite – when hypothesis and speculation become hard fact and there is no more 'may be'.

To a traveler and explorer "finishing a world" is the death of his playstyle. I want to stand at the shore of the southern sea and wonder forever what may lie beyond." [source]
What am I gonna do once I've mapped the entire world? Let's not map it!
Now, seems to me Wildstar's explorer sounds an awful lot like exploration in GW2. The shiny somewhat wishy-washy job descriptions on the official page can't conceal what gets very obvious in this explorer showcase or devspeak: climby vista-missions and timed (!) scavenger hunts, power maps (more jumping), achievements, completionism…on the clock.
To clarify: I realize that achievements can be a great motivator for some players to go and travel the world at all, although I can't judge how much they are actually seeing and exploring it when they're out hunting marks. In any case, that makes me wonder about two things: a) Is this path for people who are already explorers (and therefore need no achievements as 'incentives') or is it just another coat of paint for the achiever? And b) What's in it for me who finds achievement spam, event markers and countdowns obtrusive to the exploratory experience rather than helpful?
Of course that begs one more question, namely what the hell I was expecting and I guess that's fair. Exploration being such an intrinsically motivated activity for me of almost meditative quality, there's just no active setting up or instrumentalizing this in an MMO, the way the devs would like to. Explorers like me need a living, breathing open world first and foremost, one that doesn't flaunt its riches and doesn't scream at you but offers reward in terms of discovering secrets and random events. Proper scale and size matter too, extensive travel and eye candy – plenty of that. It's especially nice if you can "do" things – leave a mark, create or change something no matter how small (how would player-created geocaching do in MMOs I wonder?). What I'd like to see too is literally drawing your own maps instead of getting world map view all the time.
I'd be up for more erring in general; it's bizarre beyond words that designers spend years creating virtual worlds and then hand you all the maps, event/location markers and even lists of "what you can do there" (aka achievements) from the get-go. And then they wonder why it all lasted a few weeks only.
Anyway, my preferred modus operandi isn't nearly enough for a fully fledged, gamified playstyle with tangible progression and rewards, I get it. So for now the big question of which path to pick in Wildstar is back on the table. I'll probably have to do the usual: "force" my inner explorer on any given path. It appears Settler is quite en vogue, so maybe I should just roll Kill…err Soldier out of spite and blow up all those jumping puzzles they no doubt created.