I am so tired of all the MMORPG lore I'm supposed to know about. Or care.
Why can't I be the one writing history? (Syl)
I know there are players who would fiercely disagree with above sentiment; lovers of MMO lore for one thing and all those of you who feel that the player should not be the hero of the world. I've disagreed with that before – and I still do.
As great as the story of Arthas was in World of Warcraft and it's one of the few I ever really cared for, it also made me a by-stander. I was allowed to accompany him through the Culling of Stratholme and assist Jaina several times over but I had neither power nor say in any of these matters. A load of good all the leveling up, gearing up and gaining reputation have done me. Worse though, what the story arch of Arthas really did for Warcraft was ending something; the central theme, the big ambivalent villain figure ended in Wrath of the Lich King. And on a personal level it's where the game ended for me, too.
No matter what efforts have gone into writing the next expansion or attempting to introduce Deathwing as "that new threat" (another boring force-of-nature dragon in a fantasy game), everything after WotLK is basically "post Arthas" and we know it. That is the nature of storytelling: it ends. To tell a story, recounting events, is to acknowledge the flow of time. All good stories, the ones that engage and touch us, must end lest they not be literally point-less.
Who may be allowed to linger who is fulfilled by purpose? (C. Morgenstern)
Is it really such a good thing to emphasize storytelling in a genre that wants its virtual worlds to exist forever? There's a reason why the internal narrative of LOTRO, now in its fourth expansion, has only just reached the chapter of Rohan. It took the fellowship five and a half years (!) to get to that part of Middle-Earth and for a good reason. For what will happen if they ever reach their final destination? What will Turbine do after the One Ring was cast into the fiery chasm from whence it came? As long as their game goes strong it must never happen.
More Lore Bore
Narrative is an important part of the RPG genre; it adds depth to the fictional worlds we play in and the characters we meet, as far as we like to make NPCs an important part of the experience anyway. Traditionally, it can make us connect with individuals, identify more with quests we are given and add purpose to our stride. Yet, if my personal MMORPG experiences are any indication, lore and storytelling do not actually make for much player immersion. There is a disconnect between myself and a world I have "so much to learn about" (like a tourist purchasing a guide book), trying to follow the narrative's red line and let's face it: read lots and lots of text! Or alternatively listen to it.
I have all but switched off to my personal storyline in Guild Wars 2, those cut-scene screens cannot come off fast enough. Trehearne is the hero of the day and for all the forked story-choices I get to make, all roads inevitably lead to Zhaitan – yes, yet another faceless, boring fantasy game dragon. Never has a more formidable creature from our favorite genre's bestiary known more "narrative mistreatment". I am so detached from what is supposed to be my personal story(?), it feels like ArenaNet should have re-named the whole thing to "world campaign". Only, the entire narrative doesn't just feel disconnected from the player on a personal level, it is also not very well integrated in the rest of Tyria.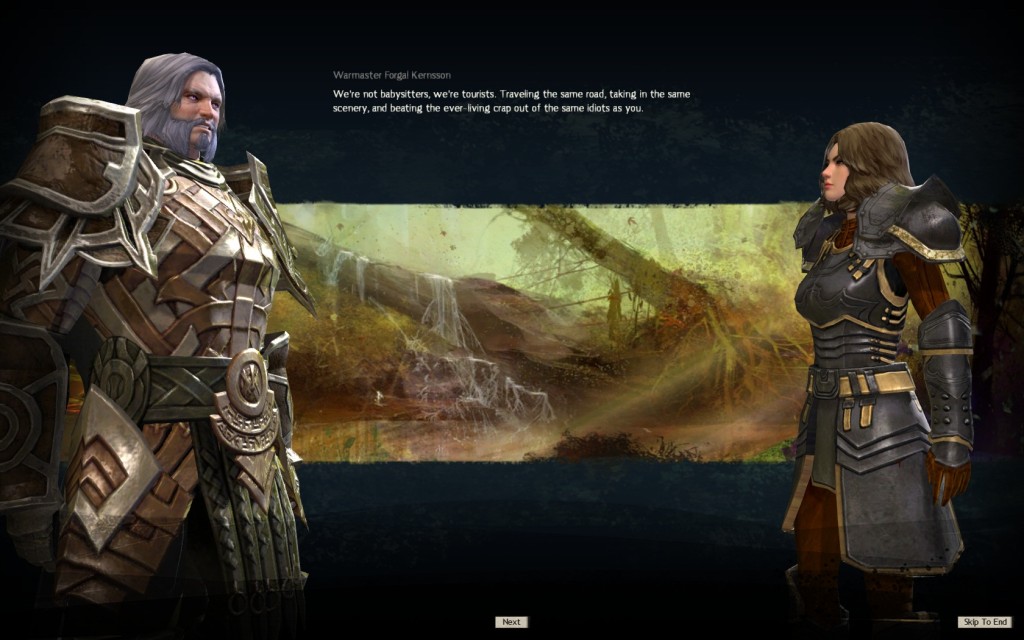 However, Guild Wars 2 storytelling failings are far from the exception. And I honestly think the constant demand for increased "story telling" in MMORPGs is mislead. The so-called fourth pillar of game design is overrated for this genre in particular, for should not the player drive the narrative rather than being driven by it? And it would be a good thing to remember how great stories are really created and why more and more story-driven quests and events in MMOs are in fact counter-productive to the immersive experience. Worlds are immersive when they engage us and make us partake – not listen to.
Don't "tell me" the story
Great writing is the art of not saying things. It's the skill of knowing which things to write and which to leave out. The greatest of authors understand that it won't do to spell out all the details, secrets and twists about a story; this is not how interesting characters or plot are created. I believe typically most writers spend the first half of their journey learning to flesh out, formulate and construct interesting, complex plot-lines. After that, they spend the other half of the time removing information and un-saying too many words. I can confirm this for my own writing journey, that it's a struggle of learning what not to say, rather than what to say and mustering that "courage for silence" which tangentially, is also a central theme in the education of teachers (which happens to be my professional background). Didactics 101 will teach you that for greatest learning effect, impact and longevity, your audience needs to make as many steps of the journey on their own as possible. They must try unearth and unravel the story (or learning subject) by themselves. The teacher should only ever be the prompter, the one asking questions and if required the fallback plan.
Accomplished (fiction) writing follows very much the same principles. Unfortunately, it's not as easy as grabbing the eraser and cutting extra holes into a story; we need to set up the things we aren't telling and often that takes a lot more doing than just spilling the beans. Writers must balance that tiny margin between frustrating readers with gaps and inconsistencies versus treating them like children. Both shortcomings are equally bad.
Half of the world building in MMOs relies on us completing the picture with our own mental imagery. It's when the real magic happens – the alchemy. (source – Syl)

I would re-phrase my above statement in this context to the following: "Half of the story building in MMOs relies on us connecting the dots by means of our own imagination. It's when the real magic happens – the alchemy."
Where does narrative happen? And impact? Not inside the game surely. They happen inside our minds and most exquisitely so when we connected the dots ourselves. When we have a sudden moment of understanding, of surprise, suspicion or that big game-altering epiphany: "Oh my god, a-ha!"
MMO players aren't a lazy audience, they're in fact experts when it comes to finding secrets, puzzling together bits and pieces of information scattered seemingly at random across the world. Yet, less and less are they being challenged to do this in MMORPGs. I'd like to play sherlock in the games I play in and unwind themes and stories in my own time. And I want to be part of them rather than just a reader plowing his way through chunks of narrative thrown at me ever so often by writers. Most of all: I want less story-telling and spelling it all out for me. Heck, less is a lot more here! Leave something to my imagination? It tends to be bigger than anything anyone could write.
Winding back the clock
I've been playing through several retro RPG hommages this last weekend, such as Half-Minute Hero or Evoland. While they're parodies of oldschool console RPG tropes and mechanics, they made me think back on how much simpler stories used to be in this genre and how well I remember them in spite of this. Characters weren't nearly as well written or complex, either. Yet that "blankness" or lack of certain pieces of information allowed me to make them "my own" a lot more than newer games do. It allowed me to project some of my own wishes and speculations into them and to keep looking for clues around the world to back me up. To this day, I still wonder about Crono, that mute "protagonist" from one of the greatest games in existence. And I still speculate over pieces of the puzzle that is the story in Xenogears. I like not getting answers to everything. It means I can find my own answers.
Interestingly enough, I came across two links in this context after starting to write this article. One is a Gamasutra analyzis on "Chrono Trigger's Design Secrets", a piece that focuses almost exclusively on the balance between delivering narrative versus emergent gameplay and freedom in the SNES classic. This big design challenge applies to MMORPGs too, maybe even a lot more so.
Thanks to modular narrative sections, carefully designed battles, and the use of levels to guide progression, players are given a sense of freedom while actually playing a relatively linear game and experiencing a set overall narrative — but Chrono Trigger's narrative freedom goes much deeper than that.
My second link is Total Biscuit's critical Bioshock Infinite review on youtube. Most players agree that there's not much in terms of open world in this shooter RPG and it doesn't need to be – BI is a linear and heavily story-driven, visually stunning journey (with guns). The players is and always will remain a spectator. Yet, at one point through the video (39:40) TB comments on general exploration in Bioshock games:
Generally speaking the world itself tells a story way, way better than anything else would. Like, if you would've just said: Oh, I'm gonna tell a story through a bunch of exposition with dialogue – that's not as strong as the way Bioshock has traditionally told its stories, because Bioshock shows you things. And it also leaves a lot to the imagination and a lot of conclusions which you yourself have to actually make. Which is in itself pretty fantastic.[…] And I would say that if you wanna design your game really well and you wanna do a reasonably open-world game which encourages exploration, you have got to do that stuff. You've got to have the world tell various stories.
While I'm not so sure this necessarily applies to BI in particular, I agree with it as a principle.
In conclusion: 3 maxims of storytelling in MMORPGs
I've touched on several issues of storytelling in RPGs and MMORPGs in this post, all of which intersect heavily but are also questions of their own. First and foremost whether MMORPGs should feature pre-written stories and if so, how much is too much? And how should ongoing narrative be driven and delivered in online games in order to engage the player and remove him from the spectator's bench? I haven't reached any final conclusions on this myself. However, in summary and based on insights from past games, I would state the following three "maxims" of storytelling in MMORPGs:
MMORPGs should avoid that one central and finite story arch. Instead, the world should feature various stories to be discovered by the player and followed in his own time.
There should be less story-telling and explaining going on. Instead, offer the player more engaging hunts for truth and connecting dots. Dare to leave gaps and not explain everything or everyone.
Narrative should be driven by the player as much as the other way around (at the very least).

These could possibly be refined or worded better. I think it's safe to say that many MMO players do enjoy good stories but it's a question of how they are initiated, how they engage and include us in the worlds we play in – whether they remain tales or become experiences.
Every minute spent on reading or listening to educational text blocks in MMOs is a minute in which I am a passive recipient rather than the player / hero. And with every such minute my world inevitably becomes a little bit smaller – more explained rather than explored, more narrated rather than experienced. What an unspeakable loss.