Nobody was more surprised than myself to see Shroud of the Avatar, one of the most horrible name-givings in MMO history surely, reach its one million goal with an added extra of 30% on kickstarter. I know some players are desperate to bring "anything a bit like UO" back but still – surprised! And what better figurehead to sell that promise than Lord British, Richard Garriot, or Lord Snakependant as I like to call him. He and his eye-catching accessory seem to appear everywhere of late. Where can I get my fortune read, please?
This Tuesday night, Grakulen from MMORPG.com had the honor of interviewing Garriot on twitch and get some of the fan-base's more pressing questions answered. For some obscure reason I found myself following that show, bravely ignoring the trashtalk going on in the live chat window. Now, I have no idea if any future version of myself would even consider playing SotA, nonetheless some of you might be interested to hear the following "news" or tidbits which were elaborated on by Garriot:
SotA will be all about

meaningful, moral choices

; players will supposedly be challenged in various ways and have to live with the consequences of their actions (taking extenuating circumstances into account). Tricky.

Outdoor player housing

is back! While houses will be more exclusive than in UO and bound to designated town zones, players will not only be able to own public buildings but set up shops and vendor NPCs. Wahey, right? Also: you can choose to play a pure "farming" character.
There be

world events

; for example, towns will be besieged in various intervals ("every new moon") and players will need to band up in order to save their infrastructure and NPCs. We've seen hubs taken over in Rift, so personally I hope there will be more drama and significance to this in SotA.
As SotA won't be featuring different servers but

one global mega-server

, a sort of culling-mechanic is in place to reduce the amount of other players you can see at any given time. It's not actually "culling" the way we have it in GW2 but rather dynamic instances (or shards) of the same server that players play on in order to avoid heavy traffic. Shards aren't exactly new, yet in SotA the system ensures that friends will always end up on the same shard. The more removed an acquaintance, the less likely you will ever see them (however, those "invisible players" would still be able to access your shop as customers, since you are strictly speaking playing on the same world). The friend-feature aside, players will be "re-sharded" pretty much all the time, says Garriot.

This last part is where it got complicated. I understand it's becoming trendy for MMOs to re-introduce that "one world feeling", the way it's also been announced for the Elder Scrolls Online. While I'm certainly pro server mechanics that ensure friends can play together (although there's this wild thing called server transfers), the whole concept loses much of its appeal when we're back talking about different layers/instances/shards and invisible people. Not such a big world after all?
Before I was able to formulate an even bigger concern however, another viewer in the twitch audience, Garbrac, beat me to it in live chat: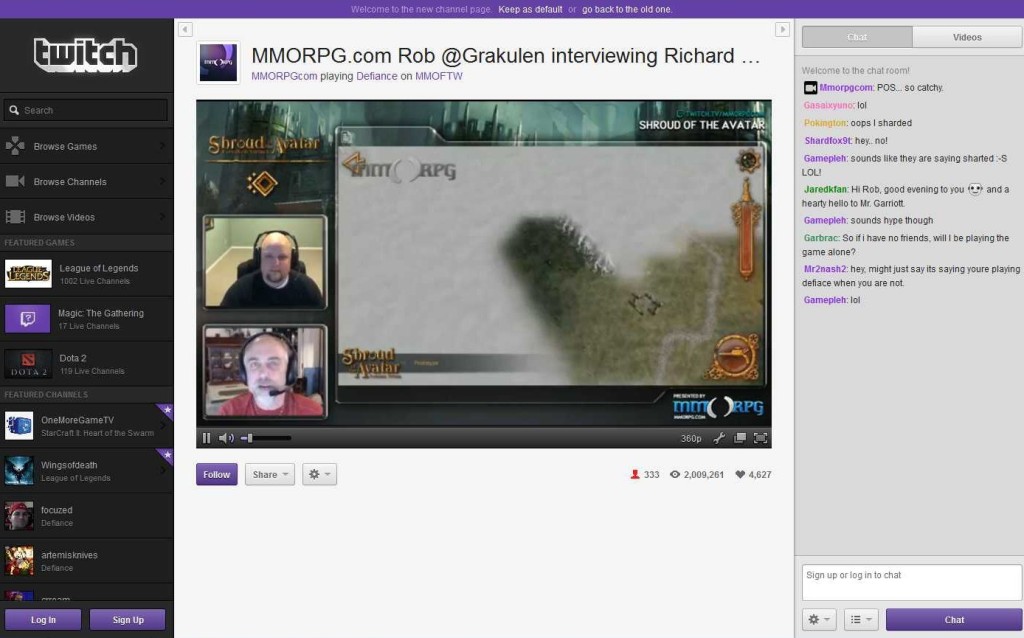 "So if I have no friends, will I be playing the game alone?"
Ever since MMORPGs have come out of the shadows with World of Warcraft, new games are being created under the solid assumption that players will show up "with friends". You don't make online friends in MMOs any more – you're supposed to bring them. You can see it in game design too: the learning curve, jumping into medias res and the leveling journey become ever more trivial. At the same time, endgame challenges and/or difficult group content persist; big world or guild events require functional communities. Tough luck for the one who travels those first bits of the game alone! With little hardship comes little cooperation. Cooperation is where chance encounters transform into lasting bonds and guild invites (or creation) are generally the consequence.
Mind, I am not talking about enforced role setup and I am happy that new MMOs allow for playstyle variety. But if cooperation is a core value of high level content, it needs to be a requirement on low level too! Otherwise there's a clear issue in preparing and setting up new players for the whole journey. And there's an even bigger issue if server mechanics prevent soloers from ever meeting the same people twice! I cannot imagine anything more dreary than playing on a server that constantly changes my social environment! How on earth am I supposed to establish connections here? High level group content yay – but erm, can I please find some companions first?
Anyway, I can't wait to hear a solution to this from the guys at SotA (unfortunately it was not addressed in the twitch talk). I don't know about you, but I am not looking forward to MMO worlds that are constantly re-sharding me anywhere, unless I bring existing friends and family along!