Klepsacovic keeps posting articles on evul vanilla, so this is entirely his fault.
What can I say, I get all fuzzy inside hearing about things like linear raids, negative stat modifiers or resistance gear – guess I'm just a glutton for punishment. But we really understand the relationship between the hard shit and feelings of accomplishment slash memories by now, don't we?
I can't help but think back on the days of 40man raiding ever so often, when everything in WoW was so brand new and unexplored, when servers seemed like such a small place and everyone would sport their epic tiers at Ironforge square (yeah Ogri for you trolls). I know I'm not the only one with such deep stages of nostalgia and it doesn't matter one bit how much better or worse vanilla truly was. Truly is only what we know.
So, the following little write-up is for all of you who hardly remember how different raiding was back in the days, or those who can find curious entertainment in veteran tales maybe. It's a time travel back to 2005/2006 when I was a healing coordinator for my second raidguild, sometime halfway through BWL. To my amazement they've actually maintained the guild page up to this day and our (incomplete) list of first kill screenshots still exists. I was one of the founders of that guild after having already raided with a different guild before, and I never missed a single firstkill in MC, BWL or Naxx, so Syl is on all the pictures, with a really bad haircut (and the proof that I was the first with a Benediction, lalala!).
A completely average pre-raid day in a busy and entirely too obsessed officer's life, in WoW 1.0. (All names have been changed to protect the guilty). Feels like it was only yesterday. ~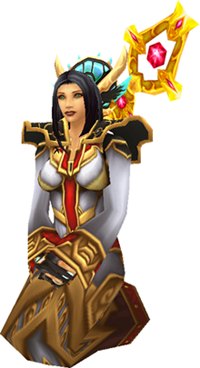 *****Guild notes, January 5th, 2006
***Current raid progress: MC 10/10, BWL 6/8
"After too many wipes at Vaelastraz (that sucker!) last raidweek, we're back to BWL tonight, hopefully making it past the three drakes fast. I spent half of this afternoon doing the potion quests in Blasted Lands. If I see another basilisk brain or vulture gizzard any time soon, I'm gonna cry.
The officers agreed to start with the LBRS buff again tonight because "every little extra helps". I don't mind the whole mind-controlling procedure, but I really think we're wasting our time. If Razul suggests doing Onyxia for the head buff as well, I'm gonna hit the roof. There's such a thing as being TOO prepared! Reminds me, I need to go gather Dreamfoil in Azshara and pay Duke Hydraxis a visit before we start. Just in case we decide to switch to MC.
We're still farming cores and leather there, at least the tanks and healers are done with their fire-res sets now.  Our three new trialists are dropping like flies during the molten packs lol, I don't wanna know how we'll even get them past Raggy…. If that new druid is still not attuned tonight, I will personally kick him out. I really wish we didn't need the restos to help out with tanking adds at Domo so much, but the mages can't be trusted to stay alive and sheep at the same time. I wonder if they actually use that raidframes mod we asked everyone to install (yes, DPS too).
I promised Metrolock to help him with shards later; he was all out in ZG yesterday and keeps complaining how long it takes restoring them solo, so I'll let him chainpull some packs and heal. The mages have been getting sloppy too; last raid they started making water at friggin' raidstart, so we lost 15 minutes standing in line to trade. We already crafted these big bags for them for extra space, is it asked too much to conjure enough water in time? 
Official raid start is still a big issue in general. People aren't showing up 30mins early so we can't do rollouts without a rush. On top of that, the rogues keep complaining that Megadeath counts as a melee now; frankly, I don't understand myself what it is with these new warriors refusing to tank? To make matters worse, Haley keeps insisting to play shadow in our raids – who the hell wants a shadowpriest DPS?? I can just see the drama once she starts bidding on caster trinkets, exactly what we need! What's next…. – paladins asking to tank??
Speaking of the palis, the entire group needs a kick in the butt. Buffing was plain abysmal last raid, I was missing BoS and BoK at least half of the time. There's five of them, surely they can track their buffs better! To be fair, they improved lots on getting DS up in time for wipe recoveries. All the corpserunning from Thorium Point is getting a bit much lately.
In general, the healing team is doing pretty well. The healing rotation at Firemaw went smoothly last time, although I suspect some still aren't using mana conserve in CTRA. I noticed Kestrel and Lum going OOM much faster than the others. Finn is still being a dork during trash, dying from premature heals. I told the others to stop saving his trigger-happy ass, so he'll learn to respect tank aggro one way or another.
Note to self: remember to move the priests around critical groups mid-combat, should we get unfortunate on bombs at Vael again tonight. Last time it hit three healers in a row, so it helps spreading some PoH love around. Also, I seriously need to re-write that Chromaggus healing macro – I used up four macros' worth of space now, nobody can read that much text. If only we had some sort of colored markers to make things clearer. Already looking forward to assigning 15 healers for Nefarian – not.
The tanks finally got the hang out of the taunt rotation business which is kinda crucial in BWL. We're still missing the Ony cloak for Thor though, I hope we get luckier with skinning this week. Pick-ups have gotten much more coordinated, although the two hunters' communication is worrying me big time. Those hunter pulls need to happen a lot more proactively if we're supposed to save time during trash. I think they've been on bad terms ever since Vintas got the leaf from Domo's chest first..
If nothing improves in that department, we'll simply have to keep recruiting. The Nordic Legion has been pretty aggressive in trying to poach raiders everywhere of late (they even asked our GM lol), so maybe we should return the favor sometime and knock on their door. I hear they got a pretty lousy loot policy and have weird rules in general (rumor has it they don't ask raiders to level first aid, clearly gaga). Speaking of loot, blues have been piling up of late, I fear I'll have to create a third guild mule soon.
Time for those Dreamfoils now; need to get new flasks in BWL later. I really hope we get up to Firemaw at least, so I can use the lab – otherwise it's back to basilisk brains tomorrow, bleh! "

 A good weekend to all of you out there – ye jolly newbs and wistful veterans.