Roger has a special post up remembering his past 8 years in LOTRO for the game's currently ongoing 10th anniversary event. I joined LOTRO late in 2013 but I recognize the special nostalgia and fond memories of the early player from my own time with WoW where I was a regular from the US beta up until the beginning of Cataclysm. That is a very long time to be invested in an MMO world. Looking back even as an ex-player of WoW today, there is so much to be thankful for but nothing more important than the people: the social encounters, the friendships and the guilds.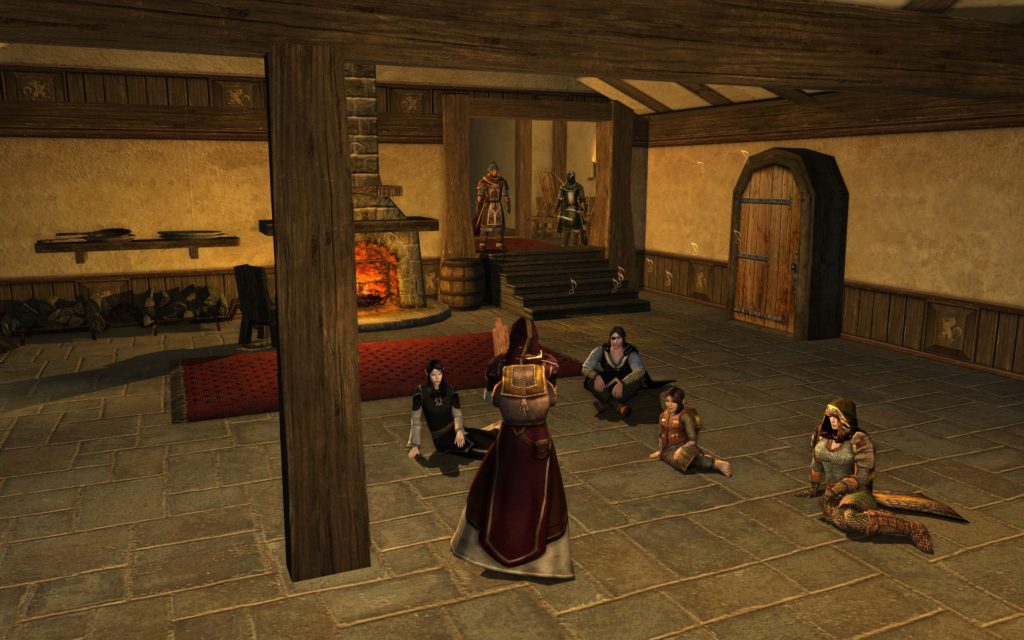 Without community, MMOs are just a very large online world. A beautiful world for sure and one that's worth exploring but hardly worth sticking around for years and years. More so even that virtual property, I believe the thing that glues us to MMOs are other people – the only truly unscripted thing that shall remain unpredictable forever.
Early MMO camaraderie, as described by Roger, is a special thing that tends to wane as MMOs become more streamlined and well explored. Internet databases have done their share of replacing some of the social interaction and seem to grow ever faster for every new game that gets released. I remember a time in WoW when everyone knew everyone on a server and world chat would buzz with support. That was long ago in WoW and long ago in LOTRO.
As a recent LOTRO return however, I can say that at least for Laurelin, "the EU RP server", server channels are still fairly active and friendly. Zone chat is dead for some reason and maybe it was never a thing, but you do generally get advice in world chat. Places like the Prancing Pony are well frequented and always good for a stop to listen to a bard play or take part in shady night time activities. There is also an inexplicable amount of generous and supportive players in general who will whisper you after a noobish question or come meet you to y'know…trade you gear upgrades for no reason or let you copy their cosmetics for the wardrobe. Both has happened to me within 3 days of play.
It seems relatively difficult to find groups for old content however which is something I struggle with in Moria. LOTRO's dungeon finder seems to be a completely ignored feature by a majority of folk, so I was encouraged to use LFF chat for Grand Stair and Hall of Mirrors. It took the better part of Sunday afternoon just to find 5 other people willing to run HoM twice since that is the required amount of runs to complete the quests there. It was a very friendly and fun group however and I ended up getting invited to their cross-fellowship channel.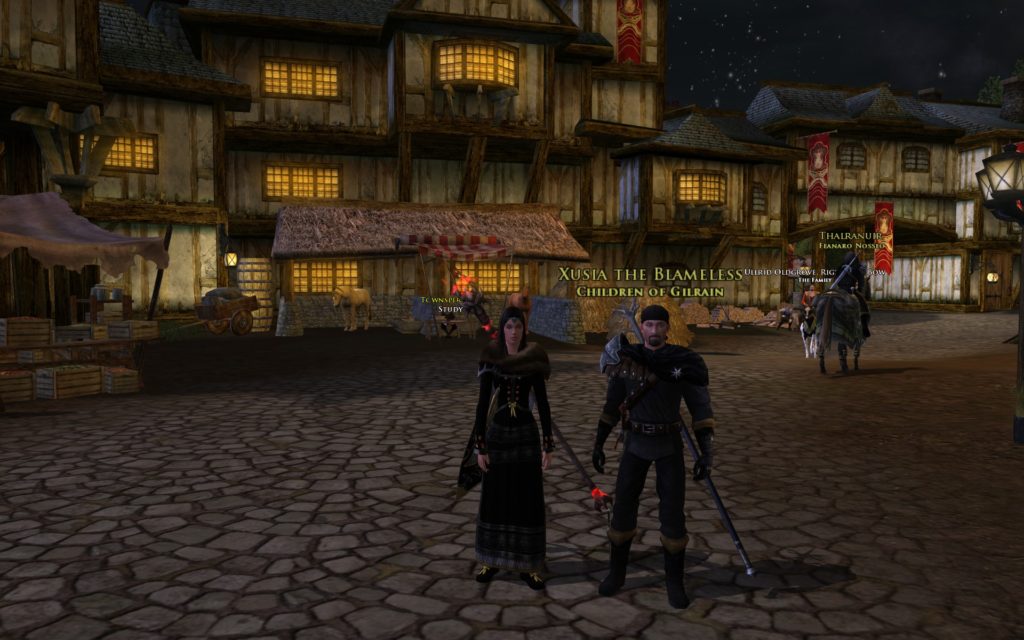 Despite some grouping difficulties, just having company out there to chat or listen to and knowing you're not alone, creates much of my enjoyment in MMOs even when I'm running solo (the other important parts being exploration and world building but you knew that already). Now that I've re-subscribed to LOTRO and intend to make up for lost time in Middle-Earth, it was an obvious next step to join a casual but active guild once more. I had been part of a bunch called the Grey Guard in 2013 who were kind enough to accept and not kick me after 3 years of absence, but it's been very quiet after my return and I've felt rather lonely and behind even more so than in 2013. Thankfully, a kind offer by Roger to join his long term kinship has arrived at what seems the perfect time! I am back in the saddle and back among people who still enjoy an MMO they've been attached to for years – a warm and familiar feeling.