The blogosphere has been busy blaugusting under Belghast's lead, an event I have been absent from due to a very hectic August and final examinations upcoming next week. Not that I would ever have managed a daily posting schedule, anyway. There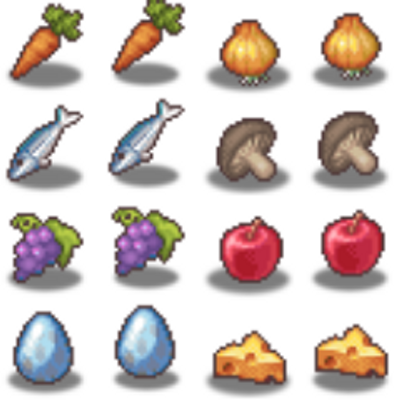 were more great things happening this month however, the birth of the 8bitkitchen among them – a brand new gamer foodies blog graciously set up by Liore, so the blogosphere has a place to blog collaboratively about the foods they enjoy cooking and eating (welcoming more recruits!). I am loving this, also for its insight into fellow bloggers' lives and our cultural diversity that we don't necessarily get from MMO-related blogging. Needless to say, this should totally be on your reader / twitter feed!
More recently, a couple of podcasters from the blogosphere have started discussing a shared directory, maybe even a future podcasting network. Roger has been so kind to set up an aggregated page of all the known podcast feeds for now, so if you're into discovering new MMO/gaming related shows, check it out and let him know what's missing!
This brings me to the Gaming Questionnaire, a shared topic by Jasyla which seems to have timed perfectly in with Blaugust and is a ton of fun to read through on other blogs. It is tangentially also something I've been wanting to do for a while, so in lieu of much else from me this month, I am embracing this challenge (with few omissions due to not having an answer)! As far as a more in-depth gamer bio goes, I've already talked quite a bit about mine on Gameskinny before, the focus of that interview being more narrow.
The Gaming Questionnaire
1. When did you start playing video games?
I started playing VGs in the early 80ies, the first console to hit our home being the ill-fated Intellivision around the time of the great videogame crash. An Atari ST and NES soon followed, so these would probably be my formative years and platforms.
2. What is the first game you remember playing?
Tough one. I don't actually remember much of the games I played on Intellivision, so I'd rather go with my first ever favorite game on Atari ST, which was Mousetrap in 1987.
3. PC or Console?
I grew up with a lot of consoles and still own quite a few, SNES and PSone being favorites because RPGs. However with the coming of the MMO age, my platform of choice has become the PC and there's no going back for me ever. I love connectivity, digital gaming and WASD.
4. XBox, PlayStation, or Wii?
If I was actually buying next gen consoles, it would probably still be an XBOX (the 360 was awesome, ROD or not) – certainly never another Nintendo console. Wake up, Nintendo!
5. What's the best game you've ever played?
Chrono Trigger. Duh.
6. What's the worst game you've ever played?
I tend to forget bad games and nowadays it's so easy to avoid them. I remember really hating Vib Ribbon back when I bought it though.
7. What are your favourite game genres?
RPGs, MMOs, (Action-)Adventures, Sandbox / Building Sims, Survival, silly things
8. Who is your favourite game protagonist?
I don't really have one. I like Chun-Li, Frog/Glenn, Kefka, Conker and Vivi even if they aren't main protagonists. Okay, Conker is.
9. Describe your perfect video game.
The perfect game is a polished package with intriguing story, open world, memorable characters, dazzling music and overall aesthetics. And an immersion factor that manages to make me forget about dinner. So basically Skyrim.
10. What video game character do have you have a crush on?
I don't develop crushes on fictional characters so much but I really like Geralt of Rivia from the Witcher series, which is testament to the authenticity and quality of the games. Geralt is more or less a typical, taciturn lone wolf protagonist but the maturity level and atmosphere of Witcher2, paired with fabulous character design and an amazing voice-over (I have a thing for low voices à la Alan Rickman) make him incredibly attractive and intriguing a character to me that is also well developed story-wise.
11. What game has the best music?
Chrono Trigger, Chrono Cross, Final Fantasy 7-11, Xenogears, Skyrim, Fable, Lineage 2, AION, WoW, GW2 and many more. I follow composers more so than titles or franchises, so I'd have to mention Mitsuda, Uematsu, Elfman, Soule, Zur, Hayes, Kurtenacker and C. Thomas to name a few.
12. Most memorable moment in a game:
I will never forget the descent of Sephiroth in the final battle of FF7, mostly because of One-Winged Angel.
13. Scariest moment in a game:
I scare easily which is why I don't play horror games. One of the coolest scares I remember was Psycho Mantis making my PSone controller "hover" over our carpet floor. Long live MGS and rumble packs!
14. What are your favorite websites/blogs about games?
Anyone that's on my blogroll. I don't really follow any more mainstream gaming websites due to lack of transparency. My best references for picking and recommending games have always been friends.
15. What's the last game you finished?
The Wolf Among Us.
16. What future releases are you most excited about?
Witcher 3, Everquest Next, Dragon Age Inquisition, Destiny, The Division, Tales from the Borderlands
17. Do you identify as a gamer?
Absolutely.
18. Why do you play video games?
Immersion, escapism, art, challenge, entertainment, team work, creativity, inspiration, community. And because nothing else will satisfy my rampant imagination.