It's Battle Bards time and as usual I am looking back on the last two episodes which there were the elaborate soundtrack of Everquest 2 and a personal favorite: tavern music. The Prancing Pony is one of those oddities in the world of MMO taverns, so in case you never noticed why that is, it's time to tune in to this latest show and hear what we've got to say about wandering bards, fire places and jam sessions in LOTRO, WoW and elsewhere.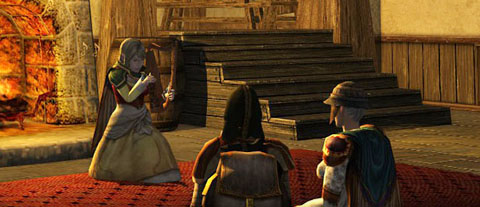 Never has a Battle Bards episode revolved around a more fitting topic or been recorded with such perfect timing (for it was Weatherstock that same night) – one might say the podcasting stars were aligned for this one!
Episode picks:
"Prancing Pony" from Lord of the Rings Online, composed by Chance Thomas
"Tavern Rock Volume 1" from Dungeons and Dragons Online, composed by Stephen DiGregorio
"Tavern" from World of Warcraft, composed by Jason Hayes
"Spelunken und Tavernen" from Drakensang Online, composed by Tilman Sillescu and Markus Schmidt
"Deepwater" from World of Warcraft, composed by David Arkenstone
"Pub" from Ultima Online, composed by ??
"Inn Music" from Final Fantasy XIV, composed by Nobuo Uematsu

A big thanks to those who have already left us a voice message lately, we'll be getting back to you on our upcoming shows!